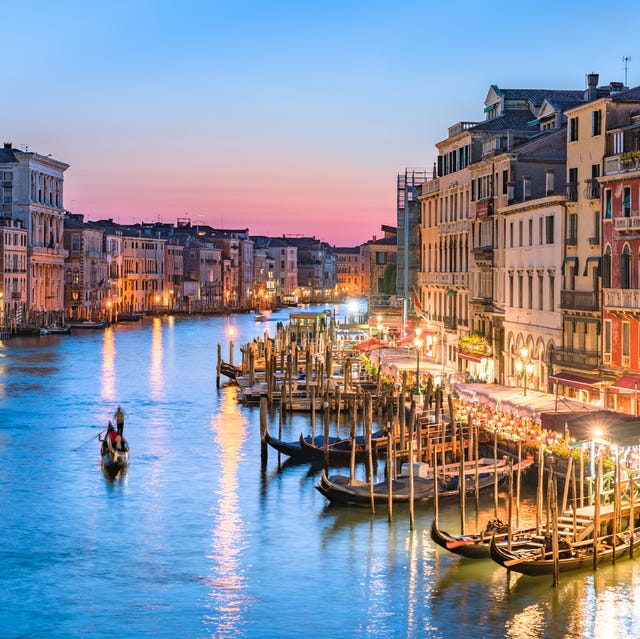 Ian.CuiYiGetty Images
Sure, all of Europe might have a lot to offer by way of culture and cuisine, but when it comes to places to visit, Italy is at the top of many a bucket list. From the pasta to the photo ops to the ancient, awe-inspiring architecture, it's hard to fathom a better vacation (or honeymoon!) destination. The problem is as you're trying to figure out the best places to visit in Italy, it can quickly become overwhelming. Even though the country is only about the size of Arizona, there is so much to see.
To cover the basics: Italy is known for its incredible display of Renaissance art and architecture, its world-famous wine, astounding scenery, and of course, its food. Not only is Italy the originator of the traditional pizza, many pasta dishes, and creamy gelato, but it's also the source of some of the best olives, lemons, and seafood in the world. (Just a lil tip as you're eating your way through the country: The best restaurants *don't* have pictures of food on their menus. Steer clear of these and you'll eat like a local.)
But it's not just the decadent dishes and renowned artwork that make Italy so beloved, it's how diverse the country is too. Yes, there are the rolling Tuscan hills and the Gladiator-style Roman structures, but there are also mountain ranges! And beaches! And hot springs! And literal caves you can sleep in!
So, to help you narrow down your gigantic list of Italian places to visit, we're compiled 30 of the best cities, landmarks, and attractions Italy has to offer. All that's missing is a cute local to drive you around on their Vespa, but we'll let you work that one out for yourself. Ciao bella!
1 of 30
Rome
The Eternal City is as vibrant—and delicious—as they come with history around literally every corner. Between the Pantheon, the Roman Forum, and Circus Maximus (just to name a few of so! many! must-see spots!), Italy's capital could be a full trip in itself. Make sure to grab dinner in the Trastevere neighborhood and get some gelato at Giolitti for a heavenly gastronomic experience.
2 of 30
The Colosseum, Rome
As one of the most recognized and beloved historical sites in the world, it'd be kinda silly not to check out the Colosseum when in Italy. The v photogenic amphitheater is close to 2,000 years old and spans six acres. Try to explore it early in the morning to beat the long lines, or book a tour if you want a more BTS experience.
3 of 30
Trevi Fountain, Rome
Cue The Lizzie McGuire Movie soundtrack because yes, the Trevi Fountain is what dreams are made of. The iconic structure dates back to ancient Roman times, and legend has it if you throw a coin in, you'll return to the Eternal City someday. Toss in two and you'll find love the next time you're there.
4 of 30
Vatican City
Technically Vatican City—which serves as the headquarters of Catholicism—is its own independent city-state, but since it's only two square miles and surrounded by Rome, it pretty much counts as part of Italy. Even if you're not religious, the Vatican is worth a visit to go inside St. Peter's Basilica and the Sistine Chapel to see famous works by Michelangelo, Raphael, and Leonardo da Vinci.
5 of 30
Florence
An art lover's paradise, Florence feels like you've stepped back in time to the Renaissance with its 30+ museums, live music, cobblestone streets, and the romantic Ponte Vecchio Bridge to stroll and shop along. Take a selfie with Michelangelo's David at the Accademia Gallery then go to Trattoria 4 Leoni for the best pear ravioli of your life or Osteria Santo Spirito for some life-altering gnocchi.
6 of 30
Cattedrale di Santa Maria del Fiore, Florence
At the heart of Florence is the Cattedrale di Santa Maria del Fiore (also called the Duomo), the fourth largest cathedral in the world. The gothic-style structure dates back to the 13th century and is just as impressive to gaze at from the outside as it is from the inside. Take a tour and climb up the bell tower for a view of the city before grabbing a gelato and relaxing in the Piazza del Duomo.
7 of 30
Tuscany
When you think of rustic Italian hill country, you're probably thinking of Tuscany, the dreamy region in central Italy home to sprawling vineyards, charming small towns, and the occasional Medieval castle (some of which you can rent on Airbnb). While Florence is technically Tuscany's capital, you have to get out of the city to really soak up that true Tuscan magic (and throw down a few bottles of Chianti).
8 of 30
Venice
Built atop a series of islands along Italy's northeast coast, we probably don't need to tell you Venice is a bucket list city to visit. The one-of-a-kind locale doesn't have roads but instead, weaving water canals and narrow footpaths. Take a water taxi to get around, or dial up the romance with a private gondola ride. Don't forget to check out St. Mark's Basilica and sip an espresso in Piazza San Marco to soak up the essence of Venezia.
9 of 30
Burano, Venice
While you're staying in Venice, make sure to take a day trip to some of the nearby suburbs (which are on neighboring islands and require a fun lil boat trip), each with unique sights to see and goods to buy. One of our absolute faves is Burano thanks to its famous luxurious lace and the colorful houses you're pretty much required to take a pic in front of. While you're exploring, you can also visit nearby Murano to see IRL glassblowers creating that famous Venetian glasswork.
10 of 30
Pompeii
Equal parts awesome and eerie, you've probably heard of the ancient Roman city, Pompeii, before. The bustling metropolis was buried in ash after the nearby Mount Vesuvius erupted in A.D. 79, leaving it almost completely intact but destroying the civilization that lived there. Take a guided tour to really get the most out of your visit (the site is huge), and if you're aching for more history, hike to the top of Mount Vesuvius or check out Herculaneum, another—wealthier—nearby city that was also preserved during the eruption.
11 of 30
Milan
As the fashion capital of Italy and one of the global "Big Four" in the industry (alongside New York, Paris, and London), Milan is pretty much the definition of Italian chic. While there are plenty of breathtaking sights—like the gothic Duomo di Milano and Da Vinci's The Last Supper mural—the city life and shopping is usually the main draw. Grab your credit card and wander along Via Monte Napoleone—what many consider to be the most exclusive and luxe shopping street in the world.
12 of 30
Amalfi Coast
As one of the most scenic spots—and drives—in the world, no trip to Italy is complete without checking out the Amalfi coast. The region is home to 13 bright seaside towns where buildings literally hang from cliffs while the Mediterranean sea glitters below. Positano and Amalfi are two of the more popular towns—complete with beaches, luxe resorts, and Michelin-starred restaurants.
13 of 30
Grotta Azzurra, Capri
At just four square miles in size, the teeny island of Capri holds one of the most magnificent natural wonders of the world: the Grotta Azzurra, aka the Blue Grotto. The spectacular sea cave was once thought to be inhibited by witches thanks to the unearthly blue color the water takes on as sunlight passes through it. Hop on a guided boat (the only way to experience the grotto) and see for yourself why this spot has been deemed magical for centuries.
14 of 30
Siena
If you're looking for that small-town Italian feel, Tuscany's Siena is an easy choice. Nestled on three hills, the medieval town once rivaled Florence in the arts, but now it's considered the perfect day trip or relaxing getaway thanks to its compact size, picturesque winding roads, and authentic cuisine. Explore the historic town square (Piazza del Campo) and go up the bell tower (Torre del Mangia) for some epic views, and don't forget to stop in Pizzicheria de Miccoli for the best sammy of your life.
15 of 30
Bologna
You likely wouldn't head to Italia if you didn't lurve the cuisine, and there's no better place in the country to eat than Bologna. Not only is the city the historic capital of the Emilia-Romagna region, but it's considered the food capital of Italy as well. As the originator of bolognese sauce (also called ragú), trying the meaty dish is a must—just be sure to get it over tagliatelle instead of spaghetti to eat like a local. If you're still hungry, chow down on some tortellini or green lasagna—both Bologna staples.
16 of 30
Lake Como
Lake Como is like the Italian Hamptons and has been used as a place to escape the heat and indulge in some R&R since the ancient Roman days. The popular spot is full of opulent, beachside resorts, quaint shops, and water sports, all with views of the nearby Alps. Spend a night in famous Bellagio for the ultimate experience or visit the lesser-known Lake Maggiore instead for a waterside escape without the wildly hefty price tag.
17 of 30
Verona
Okay, so, you definitely learned about Verona in school thanks to its Shakespearian ties. The historic city was the setting for Romeo and Juliet, and even though the play was fictional, the town has gone above and beyond to honor the infamous love story. Visit Juliet's House and leave a lock in the courtyard for ~eternal love~, and don't forget to snap a pic on the balcony! Also, the amphitheater in Verona (Arena di Verona) still puts on performances, so catch a concert there for a one-of-a-kind experience.
18 of 30
Alberobello
The heel of Italy's "boot" has a lot to offer, like the waterfront region of Puglia/Apulia. This secluded area is a beloved vacation spot for locals, which means it's a real gem if you're over some of the more touristy cities. The beaches are incredible, the ocean is a vibrant blue, but it's the town of Alberobello that you've absolutely gotta see. The commune is home to white stone trulli houses with conical roofs that feel straight out of a fairytale. Rent one for a night or two to experience all that the area has to offer.
19 of 30
Sardinia
When you think of Italy, a place like Sardinia is probably not what you'd typically envision. This tropical island is the second largest in the Mediterranean Sea and is full of pristine beaches and enclaves against the gem-like. blue-green water. But what makes Sardinia even more visit-worthy is the incredible hiking, historic ruins (like the mysterious round stone Nuraghe towers), and the remote mountain villages where locals still practice old world traditions.
20 of 30
Sicily
As the main setting for much Greek mythology (Demeter and Persephone, anyone?), the island of Sicily has an almost mythical quality about it, accentuated by its plethora of historical sites, ruins, and black sand beaches. Visit the historic Greek city of Selinunte or the Valley of Temples to get a feel for what ancient Sicilian life was like, and when you get hungry, chow down on some seafood—especially the red prawns—to really indulge.
21 of 30
Mount Etna, Sicily
As if to up the ante, the fabled city of Sicily is overlooked by Mount Etna, the highest active volcano in Europe and one of the most active volcanoes in the world. Even though it's pretty much always blazing, the volcano provides plenty of hiking options in the warmer months and skiing in the winter. For a closer look, you can go on guided tours inside lava flow caves, and if you're *really* lucky, you'll see a bright eruption while visiting the area.
22 of 30
L'Antica Pizzeria da Michele, Naples
Naples itself might not make it on your list of must-see cities, but the pizza in Naples is another story, especially because this is where our favorite food originated from. In fact, L'Antica Pizzeria da Michele is known to be the city's first pizzeria. The small spot only serves two things: pizza margherita and pizza marinara. Try them both and learn why Julia Roberts' character in Eat, Pray, Love had a love affair with her pizza when she ate at this exact spot.
23 of 30
Portofino
As a known favorite spot of the rich, famous, and artistic, Portofino is the place to be, especially if you want a more intimate vibe than what Lake Como has to offer. While there are a few historical sights just outside of the village, you'll probably be too busy bumping elbows with celebs to check them out. If you tire of relaxing on a yacht (lol), Abbazia di San Fruttuoso and Castello Brown are worth checking out while in the area.
24 of 30
The Sassi di Matera
In Matera—a small, Southern Italy region—you can take a step back in time, pretty much literally, by exploring cave dwellings called the Stassi di Matera. Here, caverns and grottos can be found that have served as homes for humans as far back as the Paleolithic era. Now, the homes, hotels, and restaurants in this region are carved into the limestone or transformed from the caves themselves. Which means yes, you can literally sleep in a cave.
25 of 30
Pisa
While Pisa isn't exactly a must-visit, if you're staying near Florence and have a few hours, you might as well take a day trip to see one of the most iconic (for Americans, at least) Italian landmarks: The Leaning Tower of Pisa. Built in 1372, the tower—which tilted a little more each year—was restored in 2001 to ensure it lives on for another couple of hundred years at least. Still, you might as well take a picture pretending to hold it up, just to be safe.
26 of 30
The Dolomites
Yes, you *can* have a mountain vacation in Italy thanks to the Dolomite Mountains, TYVM. Technically a part of the Alps, the Dolomites have everything you could want in a mountain escape: great hiking and snowsports, cozy ski resorts, and breathtaking views. Since the range is only about three hours from Austria, you'll notice a totally different feel than other parts of Italy, which means more variety without having to pull out your passport again.
27 of 30
Cinque Terre
At first glance you might think Cinque Terre—which is located on Italy's northern Ligurian coast—is the same thing as the Amalfi Coast, but it's actually older, more compact, and much easier to get around—not to mention cheaper to visit. Five cities make up Cinque Terre, and there are hiking trails you can take that connect the villages, making exploring all of them on foot super simple. While there be sure to order some pesto or focaccia, two dishes that are credited to the region where Cinque Terre is located.
28 of 30
Parma
Just about an hour from Italy's food capital, Bologna, is another foodie haven called Parma. As the name suggests, Parma is where authentic Parmigiano Reggiano cheese comes from, as well as Prosciutto di Parma (Parma ham). While you'll probably want to focus your attention on the food (check out Ristorante Cocchi for a *chef's kiss* pasta trio sampler), a performance at Teatro Regio and seeing the pink marble baptistery are also well worth your time.
29 of 30
Rimini
Sometimes you just need to escape to the beach, and when that happens in Italy, you head to Rimini. Full of golden beaches and lavish resorts, this is the place to lounge with a book and take a quick vacay from your vacay. If you decide to leave your spot in the sand, the street food here is world-renowned and the nightclubs are a blast. Make sure to check out the Arch of Augustus—one of the oldest surviving Roman arches—and take a ride on the Ferris wheel (La Ruota Panoramica) before you leave.
30 of 30
Ischia
There's no better way to cap off an Italy trip than with a visit to Ischia, a volcanic island with beautiful gardens like Giardini La Mortella and a famous medieval castle (Castello Aragones). But it's the thermal springs and spas here that really make Ischia stand out. The water and mud are said to have healing properties that'll leave you feeling blissfully rejuvenated, so you can go home feeling relaxed, rested, and ready to get back to real life. Or at least ready-ish.