Not new news: Taylor Swift dating Travis Kelce. New news: Everything else there is to know about Travis' life, namely the 🥺 bond he and his older brother Jason have. Enter: Your absolute fave Cosmo researchers (and Instagram sleuths 💅🏼) to give you all the intel on these two, from how they began their sports careers and all the deets about their podcast to the lowdown on all things The Kelce Bowl™️. Let's get into it, shall we?
Kk, let's start with a bit of background!
Both Jason, 36, and Travis, 34, grew up in Ohio; however, Jason was actually born in *drumroll, pls* North Carolina! And, as you'd imagine, being pretty close in age led to a lot of, erm, commotion in the Kelce household while the two were growing up.
"It's a lot of broken windows, a lot of, you know, crashes, a lot of fighting…and Travis was always the one that was the instigator because he wanted his brother's attention," Jason and Travis' mom Donna previously shared during an interview with Fox 4 Kansas City. Really and truly living for this sibling 🍵, ngl.
Now, back to sports! During their time at Cleveland Heights High School, both of the brothers played football and baseball, but Jason chose to also pursue hockey during the winter while Travis opted for basketball. Meanwhile, my high school athletic career consisted of constantly thinking of ways to skip out on my 45-minute gym period ¯_(ツ)_/¯.
Once high school was over for Jason, as the oldest, he wound up attending the University of Cincinnati to play for the school's football team, the Bearcats. And just two years later, Travis followed suit and joined his brother in Ohio. "Being two years behind him, I've naturally always kind of followed his footsteps," the Kansas City Chiefs star confessed during an interview with NFL Films. "Being on his team, knowing that he's already going through this system—it just made the most sense."
And being the ~stars~ that they are, it didn't take long for the brothers to be recognized by the head honchos over at the NFL, and Jason was selected by the Eagles in the 2011 NFL Draft while Travis was picked up by the Chiefs two years after.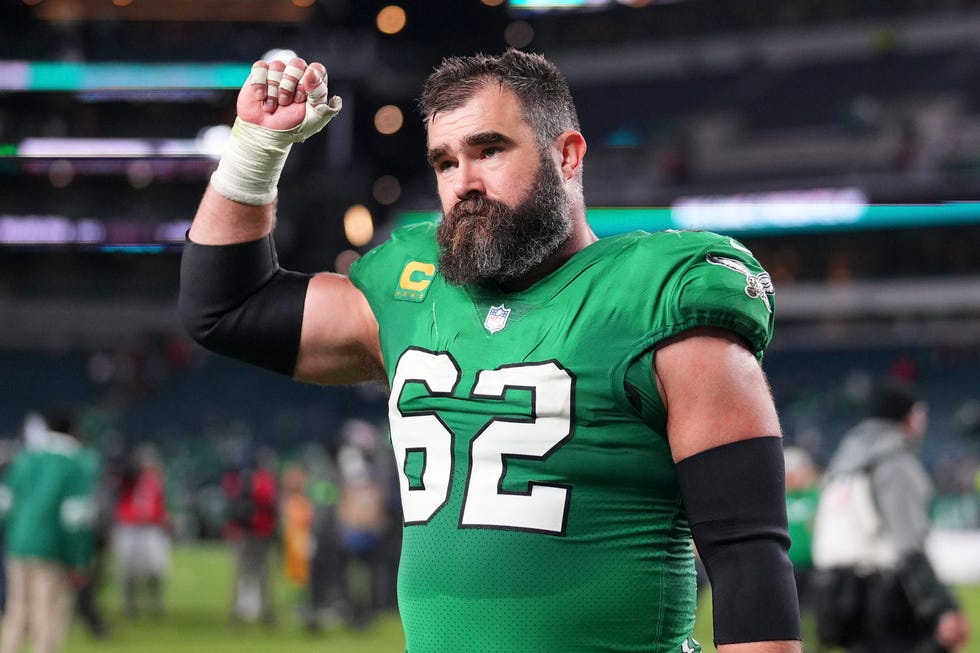 Mitchell Leff//Getty Images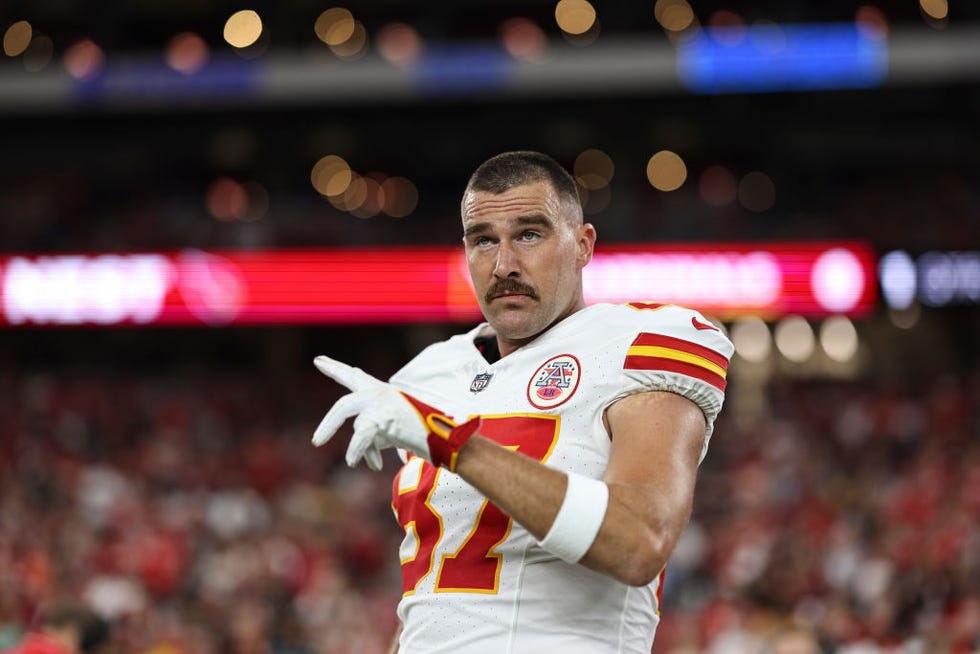 Michael Owens//Getty Images
Their parents are also kind of iconic
Your new fav parents (srry @ mom and dad!), Ed and Donna Kelce, have become famous in their own right over the years as their sons have amassed tons of support in their respective NFL careers. And despite both Jason and Travis both being in the same industry, they've def figured out the whole "showing up equally for both" kinda thing lol.
Case in point? In the lead-up to the 2023 Super Bowl, Donna legit sported split merch in order to support both of her sons equally during the season. 🥺❤️ "I have two split jerseys, one split jean jacket, and two split shoes," she told Insider during an interview at the time.
Obsessed! Is! An! Understatement!
Oh, and P.S. Tay has apparently met both Donna and Ed!!! Read all about their sweet interactions right this way:
P.P.S. Here's everything you need to know about the entirety of Jason and Travis' family!
Travis' jersey number is in honor of Jason
You're gonna wanna take out some Kleenex for this one! In case you didn't know, the number 87—which is Swiftes' fave number second to 13, obvi—is what Travis has sported throughout the entirety of his career with the Chiefs…and it just so happens to be a special tribute to his big brother Jason, who was born in the year 1987.
"You're the only reason why I wear 87 anyways," Travis even said to Jason on the sidelines once, per People. "I never told you that, man. You started the legacy." The Kansas City Chiefs star also elaborated on the significance of his jersey number during an interview with NFL Films when he confessed that, "If there is a Kelce legacy, two brothers making it to the NFL, it all started in 1987 because this big guy was born in 1987."
They both have Super Bowl rings
Yep, Jason won one with the Philadelphia Eagles in 2017 throughout his 13 seasons with the team, while Travis won two with the Chiefs in 2019 and 2023, respectively. Additionally, Jason *also* happens to be a six-time Pro Bowler, which I just discovered *checks clock* roughly 30 seconds ago is an annual event hosted by the NFL that chooses the top players in different teams and positions to play an exhibition game. Travis, for his part, has played in the event eight times. Good! To! Know!
The two also went head-to-head and made NFL history in 2023 after the Eagles and Chiefs played against each other in the Super Bowl during a game that marked the first time brothers ever played against each other IRL on opposing teams in the 57 years since the Super Bowl began. (The game was even iconically dubbed the "Kelce Bowl" by some fans.)
"Let's just think how incredibly rare it is just to make it to the NFL [from high school]," said Jason just prior to the game, per BBC. "What are the chances that two guys get to the NFL [are signed], they realize their dream of playing in the NFL, then they become starters, All Pros and important pieces of their team, and then they end up playing each other in the Super Bowl?"
"It's wild—and kind of surreal. For it all to align like it has, it's mind-boggling. It's a special moment. It's something we'll remember for the rest of our lives. You guys talking a lot about me and my brother has been fun, we appreciate it, but at the same time I'm just trying to get a win for the Chiefs," Travis added.
Ultimately, the Chiefs ended up taking the title, but the brothers still wound up being each other's number-one supporters. 🥺
They host a podcast together
…And you probs know all about it at this point. 👀 The Kelce brothers debuted their joint podcast, New Heights with Jason and Travis Kelce, in September 2022 despite their already intense football schedules (the commitment!) and debut weekly episodes every Wednesday.
"It's been good to just have that set amount of time to be able to just sit down and chat," Travis dished to Forbes about their recent venture. "It's like we're just kicking it at dinner back when we were in high school and college together….I'm having a blast. It's fun to just do something with my brother weekly."
Throughout the show, the brothers have discussed everything from how Jason and his wife, Kylie McDevitt, met to how they handled the Kelce Bowl, and, yes, even Travis' 'ship with Taylor Swift! Here are a few of our fave highlights 👀:
Jason supported Travis during his Saturday Night Live guest appearance
During his March 5, 2023 appearance on SNL, Travis had a ton of familiar faces in the crowd, as Jason and his parents sat in the front row to cheer him on.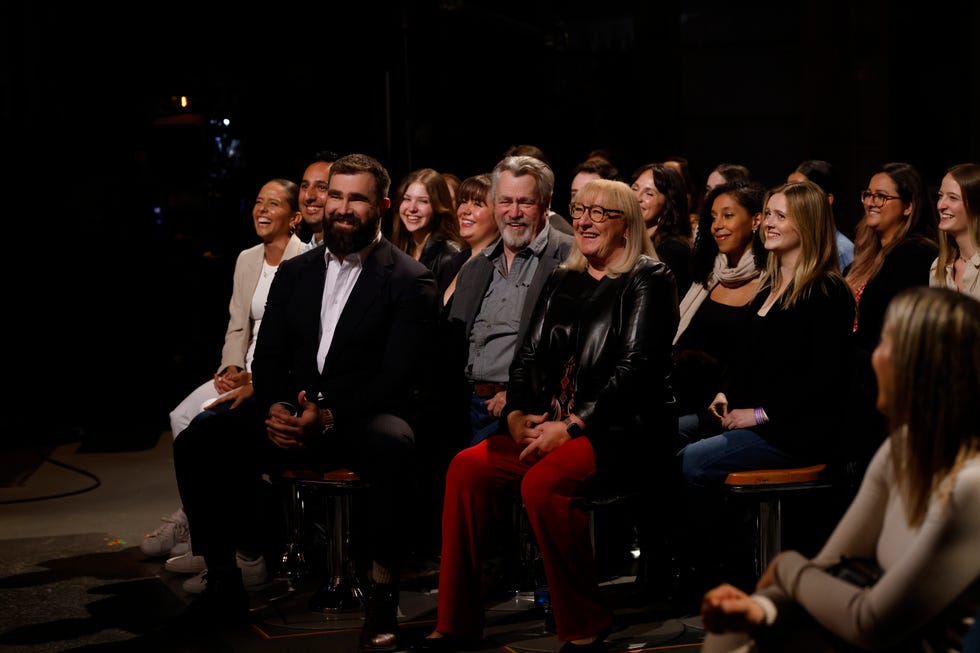 NBC//Getty Images
And in typical younger brother fashion, Travis obviiii poked fun at his older sibling during his opening monologue. "Probably the coolest thing about this Super Bowl is that my whole family was there. I got to play against my brother Jason, who's an Eagle. And my mom was on TV more than both of us," he began. "You know, people keep asking me what it was like to beat my brother in the Super Bowl, and it was pretty awkward. Especially 'cause after the game, we had to drive home together—our Mom drove us there in a minivan, like the good old days," he continued.
"And even though his team lost after being up ten points at half, my brother is actually really happy for me," Travis then added just as the camera panned to a solemn-faced Jason in a truly LOL-worthy moment. Check out the full monologue here:
They're both philanthropic
As if we couldn't be obsessed with these two any more than we already are, turns out, Jason established his foundation, (Be)Philly, in October 2022, which is dedicated to improving the lives of Philadelphia's youth.
On the organization's website, the 36-year-old himself muses, "Whether my family, my friends, or my fellow Philadelphians, I have always felt an overwhelming love and support that has helped reach my dreams and potential on and off the field. Now it's my turn."
Travis, for his part, set up Eighty-Seven & Running in 2015 in order to help "underserved youth strive to become productive citizens by mentoring and motivating them to explore and develop their abilities while learning critical life skills," per the nonprofit's site.
"Over the course of my career, do I care about football? A whole lot. I care about my career and the legacy that I leave, but I do know that I have the opportunity to relate to a lot of people in this community. And with that, I think it's a bit of a responsibility to do the right things," Travis said during an interview with People about his community work.
Aaaaaand that's pretty much all we know about these two, but def make sure to check back here for more deets about our new fave sibling duo!

Assistant news editor
Gretty Garcia is the assistant news editor at Cosmopolitan, where she covers all things news, entertainment, and pop culture. Before joining Cosmo, Gretty was a social strategist for Mrs. Dow Jones and a features and special projects editor at Editorialist. She holds an MS from the Columbia Journalism School and studied art history at Harvard College.