As the great Taylor Swift says, "It's a cruel summer," and that's exactly what we'll be singing when the Freeform hit series finally comes back. Cruel Summer had all of us wondering who to trust in its wild she said/she said story while Kate and Jeanette shared their sides. But the biggest twist isn't even the ending, it's the fact we actually won't be seeing more of Skylin's most famous teens when the show officially comes back for season 2. So what other changes are coming to the series?
Here's everything you need to know about Cruel Summer season 2.
Wait, we won't see what happens next with Kate and Jeanette?
Nope. The series is pulling an American Horror Story by turning into an anthology series. This actually isn't too surprising as it was hinted beforehand that it might go in a different direction. Still, it wasn't until April 2022 that it was officially confirmed, and we're still heartbroken we won't get to see more of Skylin.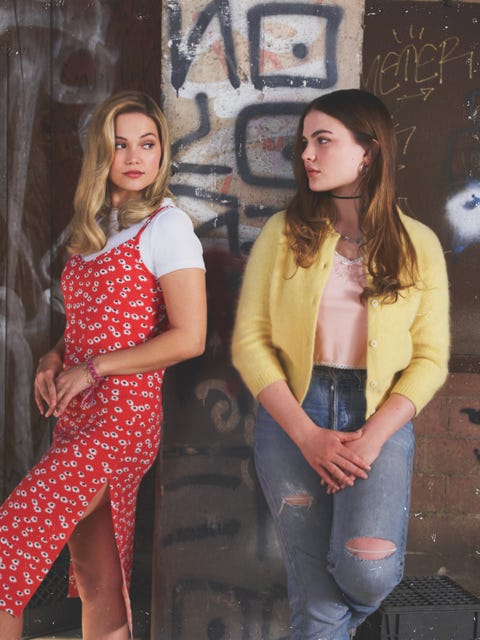 Frank OckenfelsGetty Images
What will season 2 of Cruel Summer be about?
According to The Hollywood Reporter, we're moving right into Y2K with season 2.
"Set in an idyllic waterfront town in the Pacific Northwest, season 2 of the anthology follows the rise and fall of an intense teenage friendship. Approaching the story from three different timelines surrounding Y2K, the season twists and turns as it tracks the early friendship between Megan, Isabella and Megan's best friend Luke, the love triangle that blossomed, and the mystery that would impact all of their lives going forward. Season 2 returns at a date to be determined this year."
Any details on the characters?
Along with the big reveal about the new season, Freeform also announced the new stars for season 2. Sadie Stanley, who played Kim Possible in the live-action film, will be playing Megan, "a computer coder and honor student from a blue-collar family. Once Megan meets Isabella, she begins to live in the moment and embrace her true self. When events take a tragic turn, her long held dreams are dashed and she is left wondering who she can trust."
Newcomer Eloise Payet will be playing "the alluring and enigmatic Isabella, the daughter of foreign diplomats, who is spending a year as an exchange student with the Landry family. She quickly shakes up life in this small town, but her charm can't hide the truth about her past, or the real reason she came to live with the Landrys, forever."
Locke and Key star Griffin Gluck is starring as Luke Chambers, "Megan's lifelong best friend from a prominent family. Over time, Luke finds himself at a crossroads as he tries to establish his own place in the world separate from the expectations of his powerful father."
Other newly announced cast members include KaDee Strickland (Private Practice), Lisa Yamada (All American), Sean Blakemore (Greenleaf), and Paul Adelstein (True Story).
When will Cruel Summer season 2 come out?
Production on the new season just started, so it'll take a bit until we get to see it on our screens.But we're crossing our fingers that Cruel Summer will be back very soon…maybe even around fall 2022 or early winter 2022.
Tamara Fuentes Associate Entertainment Editor Tamara Fuentes is the current Associate Entertainment Editor at Cosmopolitan, where she covers TV, movies, books, celebrities, and more.
This content is created and maintained by a third party, and imported onto this page to help users provide their email addresses. You may be able to find more information about this and similar content at piano.io