They may have met on planet Earth in 2020, but Machine Gun Kelly and Megan Fox's relationship is fully out of this world—that is, if you believe in twin flames and cosmic connections like they do. Since they went public, the couple has been dropping mirror selfies and Instagram Stories like it's their job, and they've since graduated to straight-up getting engaged and drinking each other's blood—although there is some semi-recent drama to go over. Either way, "soul mates" doesn't begin to cover this relationship, which we've laid out in a handy (reverse chronological) timeline for everyone to obsess over.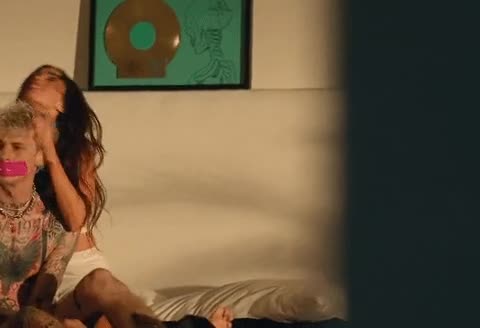 October 27, 2023
Megan and MGK have nailed Halloween once again, and are photographed in coordinating Kill Bill-inspired costumes at the annual Casamigos Halloween Party in Beverly Hills (seems as though my invite got lost in the mail *again*). And as is always the case, these two look incredible in their 'fits. Ahem, observe: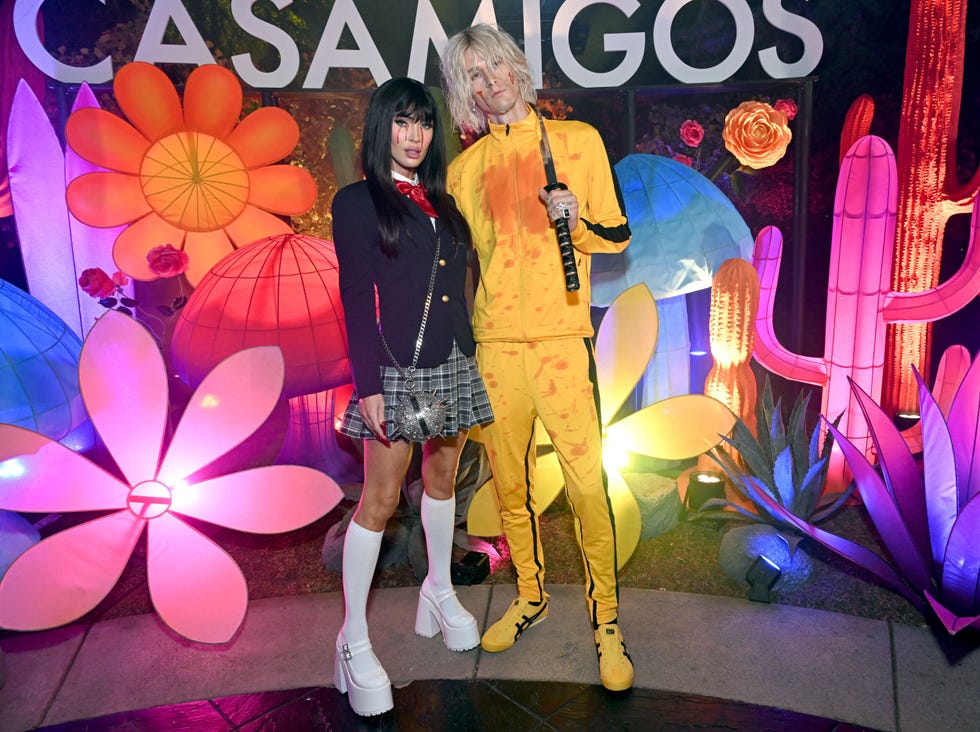 Michael Kovac//Getty Images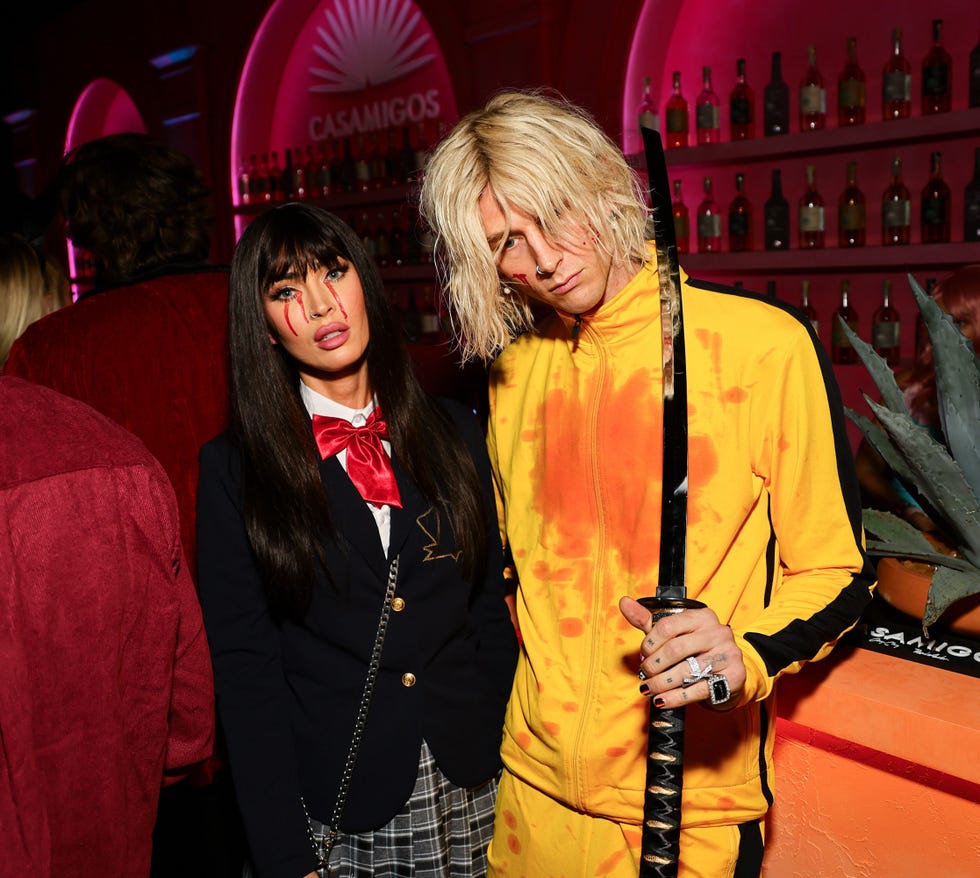 Matt Winkelmeyer//Getty Images
September 4, 2023
The couple steps out on Labor Day weekend in New York City, where Megan debuts a new fire red bob and bangs. MGK, for his part, wears a pastel-yellow tank, metallic-gray pants, black-and-white sneakers, and silver necklaces. And, yes, the two look very much in love while they walk with the musician's arm over his girlfriend's shoulder. Ahem, observe: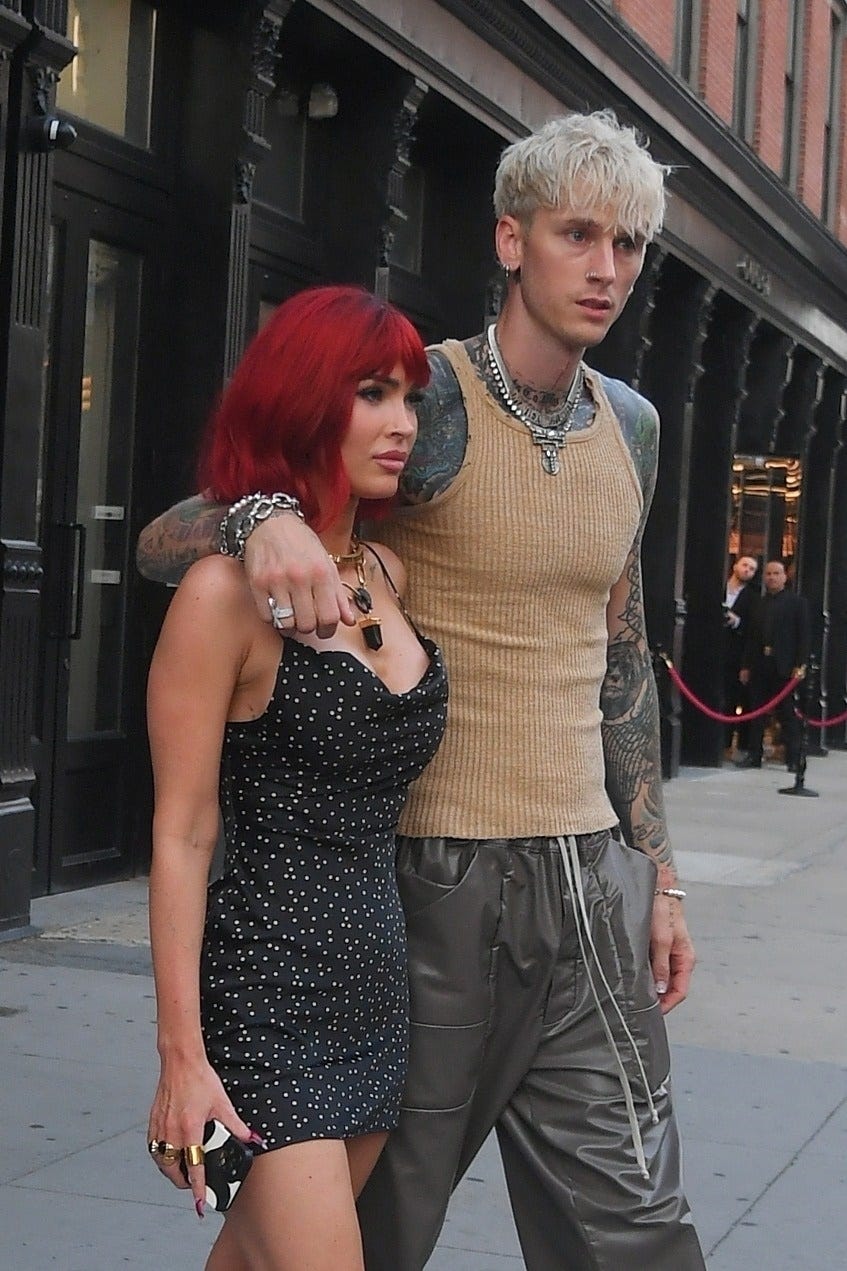 JosiahW / BACKGRID
August 8, 2023
Megan announces via Instagram that she's written a book of poems titled Pretty Boys Are Poisonous, which is slated for release on November 7.
"These poems were written in an attempt to excise the illness that had taken root in me because of my silence," the actor shares on her social media. "I've spent my entire life keeping the secrets of men, my body aches from carrying the weight of their sins. My freedom lives in these pages and I hope that my words can inspire others to take back their happiness and their identity by using their voice to illuminate what's been buried, but not forgotten, in the darkness."
And MGK is quick to show his support for his girlfriend's latest project in the comment section, writing, "Proud of you 🔥."
July 16, 2023
Megan posts a series of truly 🔥🔥🔥 pics, and her boyfriend gives his stamp of approval in the most MGK way possible, commenting, "If this is what a wild animal looks like, i'd let it maul me."
Well then!

June 15, 2023
According to an insider, Megan "seems much happier" now that she and MGK are making things work. "They have done a lot of work to make their relationship strong again and are back together," the source says, adding that the actor is even wearing her engagement ring again. Happy times!
May 31, 2023
The couple is spotted together in London, and the pics def make it seem like these two are def together.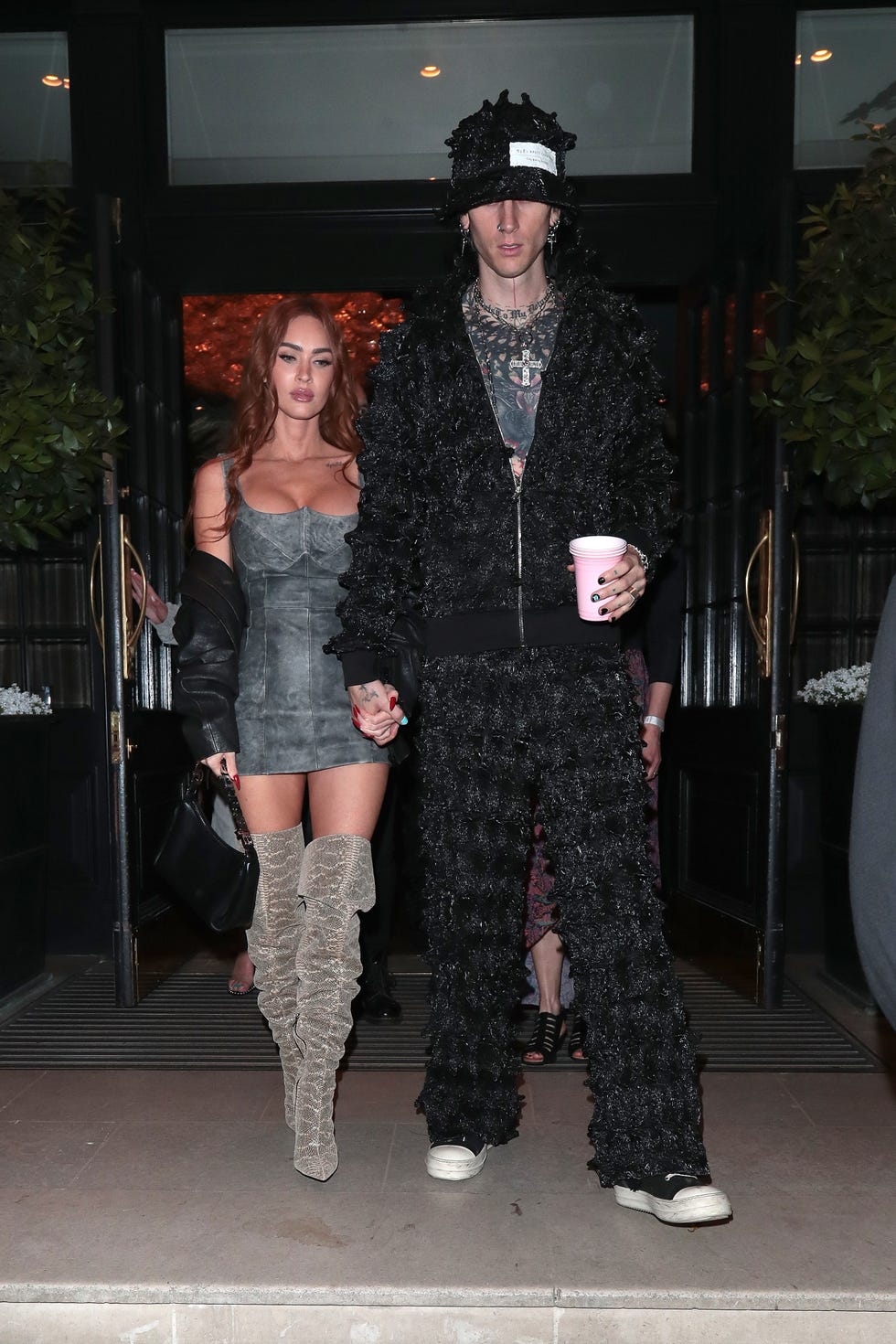 Ricky Vigil M / Justin E Palmer//Getty Images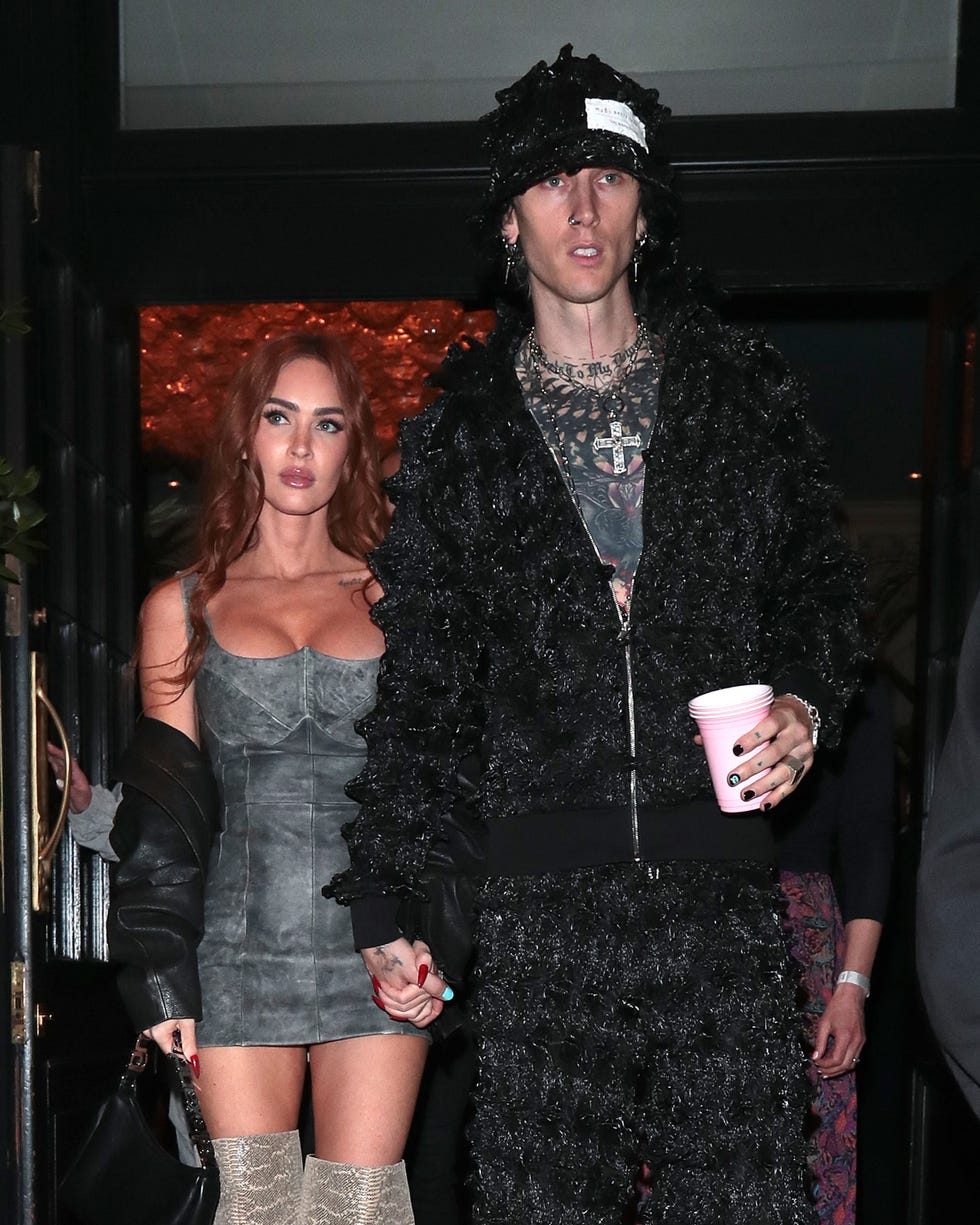 Ricky Vigil M / Justin E Palmer//Getty Images
Oh, and the outing is on the heels of a source telling People that the two are working on, "Making their relationship better."
May 18, 2023
MGK attends a celebration of the four Sports Illustrated's annual Swimsuit Issue cover stars—Megan, Martha Stewart, Kim Petras, and Brooks Nader. Though he and the actor walk the red carpet separately, they are at the event together. And when an Entertainment Tonight host asks for the musician's opinion on Megan's SI cover, he simply says, "Hot."
'Kay, it's giving reconciliation lol.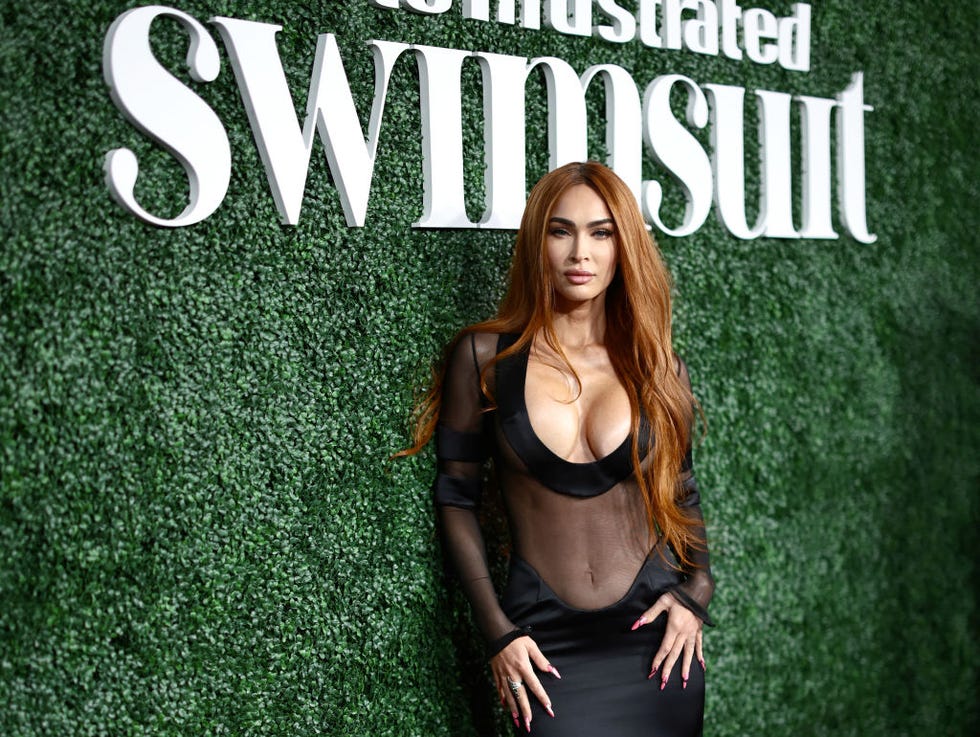 Dimitrios Kambouris//Getty Images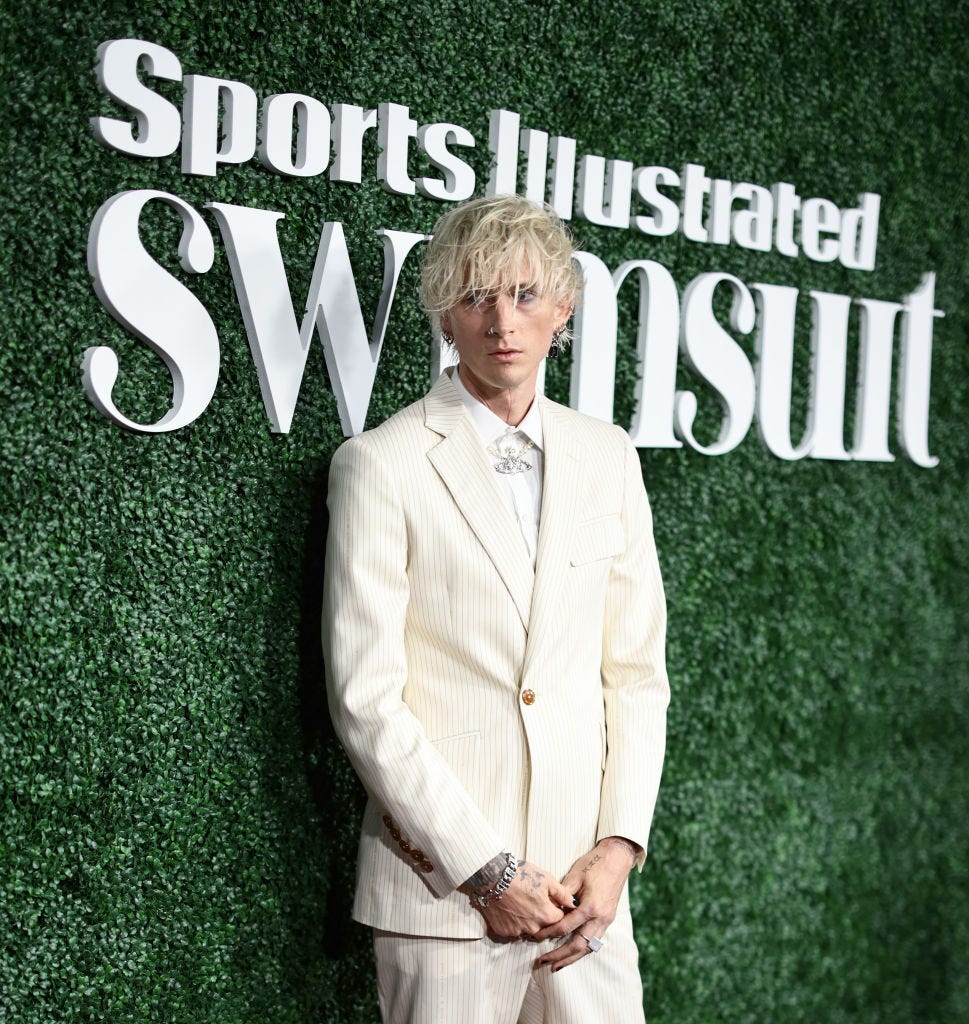 Dimitrios Kambouris//Getty Images
April 7, 2023
A resolution, perhaps? The duo is snapped by paparazzi while they're together at the Four Seasons Hotel in Hawaii. Reportedly, Meghan and MGK are visiting the island with the musician's daughter, Casie. At the time, a source tells the Daily Mail, "they're officially back on after going through a rocky patch in their relationship. The last few months has been tough for them both but they went away together to do some healing and it's been working. They feel more connected than ever."
March 24, 2023
An insider dishes to People that the couple is "in therapy" because Megan is having a "hard time trusting" MGK.
"This is really boiling down to not working. There have been points where they haven't been speaking, it's been that bad. Only time will tell if they get back together properly, but it looks pretty unlikely right now," they add.
February 20, 2023
A source tells People that Megan has "now posted that there was no cheating, but she initially thought there was and now is backtracking a bit. She was definitely hinting at infidelity with her first post. She regrets making it all so public but was really upset in the moment."
February 19, 2023
Megan reactivates Insta and denies reports that MGK cheated on her:
She also slides into the comments of his guitarist Sophie Lloyd, making it clear Sophie is in no way involved in their drama: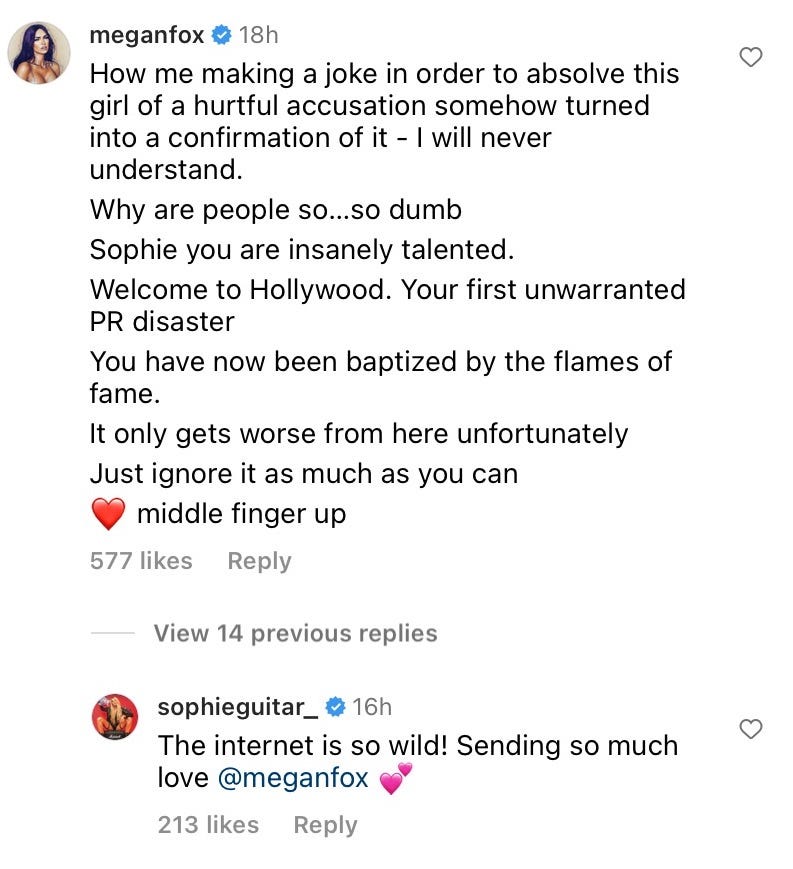 Instagram
February 13, 2023
A source tells People, "Megan is very upset. They had a fight over the weekend and Megan won't speak to him. They haven't officially called off the engagement, but Megan took her ring off." They also note that MGK and Megan "have had issues in the past…things seem pretty serious this time."
February 12, 2023
Megan and MGK seemingly break up over Super Bowl weekend. After posting the below Insta, Megan follows MGK's nemesis Eminem and then deletes her account completely:
February 5, 2023
Megan and MGK attend the Grammys together and everything seems fine!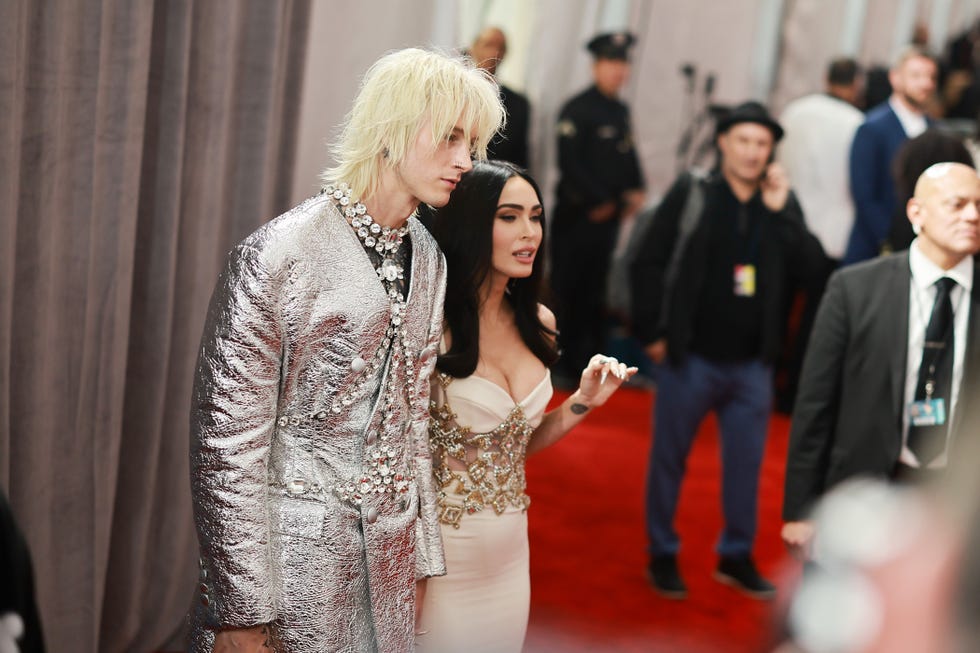 Matt Winkelmeyer//Getty Images
She even writes a since-deleted Insta post, saying, "Congratulations on being in the very small percentage of artists who have received a Grammy nomination. You have handled this process with a grace and maturity that I haven't seen from you before and I'm so proud of you. Watching you walk in humility and gratitude, watching you grow into yourself and become a better man is an immeasurably more satisfying experience than watching you accept an award."
January 11, 2023
In honor of the one-year anniversary of their engagement, MGK posts a throwback pic of Megan's unique ring on his story with the caption, "One year ago under a banyan tree." Personally, in the more than 365 days since that day, I have yet to get over the tidbit the singer revealed at the time: "The bands are actually thorns. So if [Megan] tries to take it off, it hurts." 😬😬😬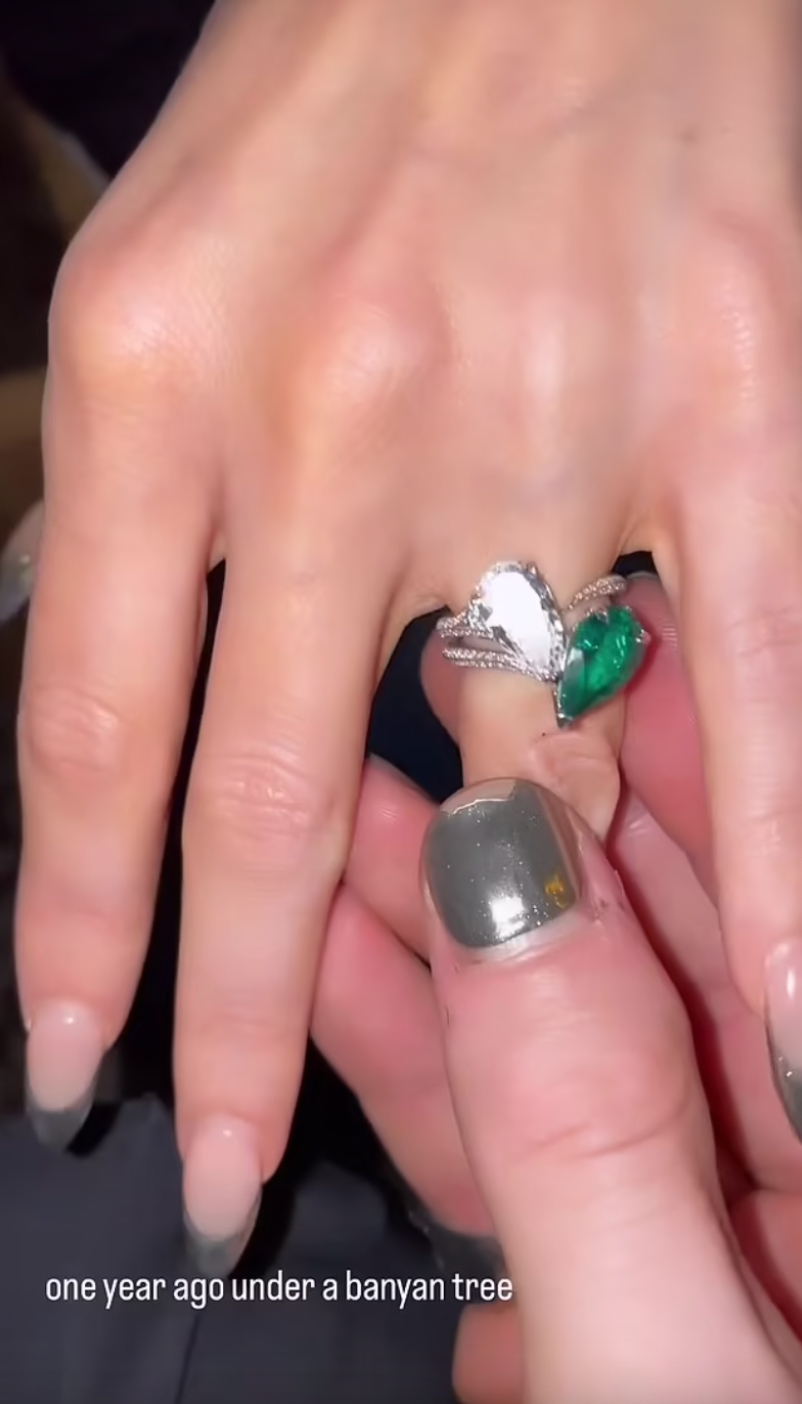 Instagram
December 8, 2022
MGK makes us legit S-W-O-O-N when he dishes on Jimmy Kimmel Live! that he recently started cooking for Megan—specifically cinnamon rolls, lol. "I got the recipe down. I went to the store, got all the ingredients, and I'm making this huge commitment of cinnamon rolls. Then I get to the point in the instructions to put them on a baking sheet, and we just moved into this new house and I didn't get baking sheets or, like, staplers or other things that you just don't think about." Unclear which cinnamon roll recipe requires a stapler, but ¯_(ツ)_/¯. Regardless, the musician then dishes that he went to neighbor Michael B. Jordan, who lent him the baking sheet he needed.
"She eats the cinnamon roll and says, 'Wow, these are really good.…I eat the cinnamon roll, I go, 'This is so bad,'" he finishes. TBH, I'm not saying I've done this out of #love, but I'm not not saying that either…lol.
November 15, 2022
Machine Gun Kelly scores his first-ever Grammy Award nomination for Mainstream Sellout, and both he and his fiancée take the time to celebrate on Insta. "Call me what you want as long as it starts with 'Grammy nominated' 🤘🏼 I LOVE YOU," the rock star captions his celebratory post.
Megan, for her part, posts a beyond-sweet tribute to her partner: "WOW congratulations to my Grammy nominated fiancé and hottest Edward Scissorhands cosplayer. You work harder than anyone I've ever known and are twice as talented. You deserve this." S'cute!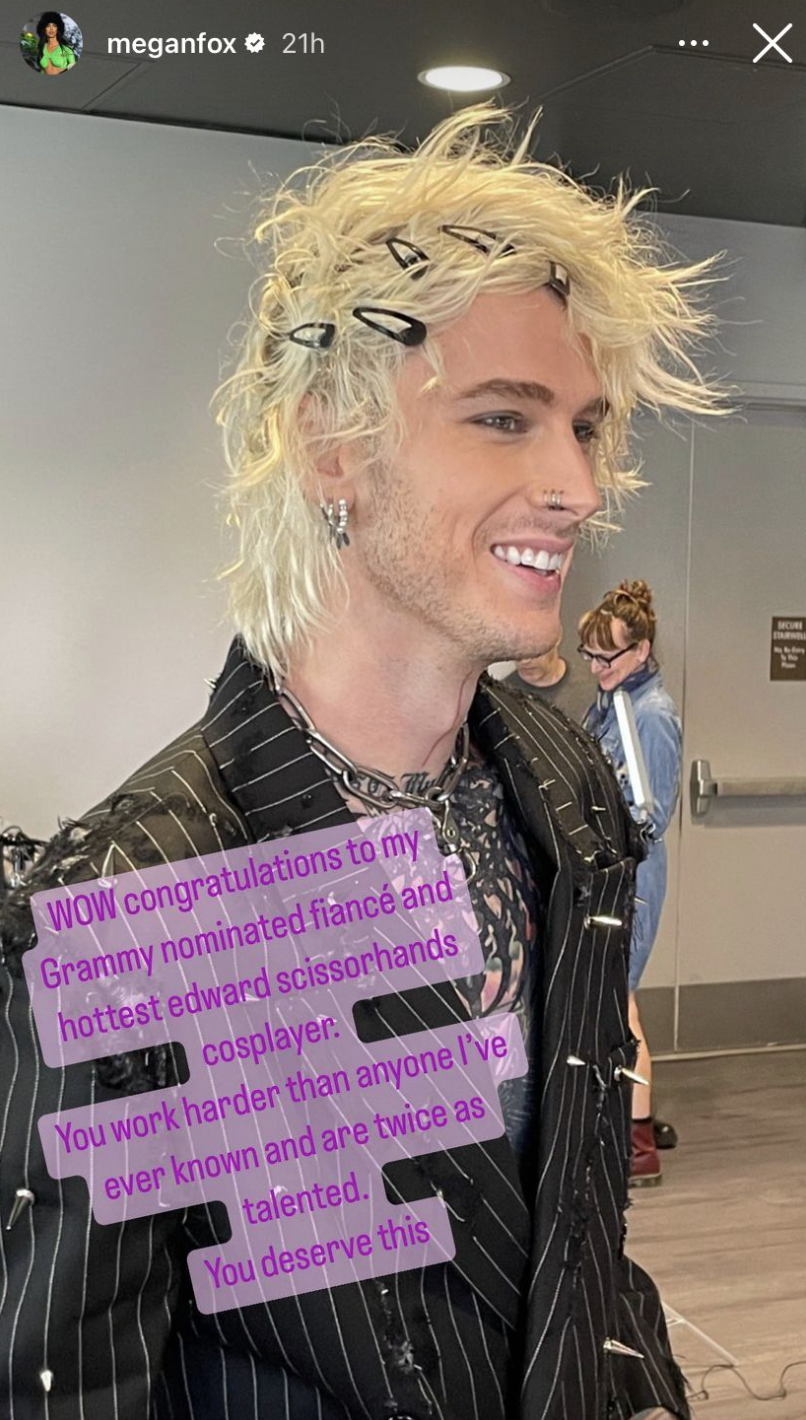 Instagram
October 28, 2022
For their third Halloween together, Megan and MGK up the ante on their whole punk vibe and dress up as throwback celebrity couple Pamela Anderson and Tommy Lee. TBH, all I have to say is…"What Megan said!"
October 25, 2022
A source tells Us Weekly that while Megan and MGK are still getting married, there have been some major ups and downs in their relationship.
"They've worked on their problems and worked really hard to get to the place where they are today," the source says. "It's still a struggle at times and they tend to have a lot of ups and downs. He is making a lot of effort to be more mature. He's not always easy to deal with. He still has this teenage side to him."
On top of that, "there was a point months ago where she was beyond done with him," said the source. "She was fed up with his BS. It got really bad between them. He loves her so much and was the one that pushed to make it work. He wanted it to work and wanted them to be a happy couple. She was having a hard time, but things have turned around."
Amid this news dropping, the couple attend a Time 100 event: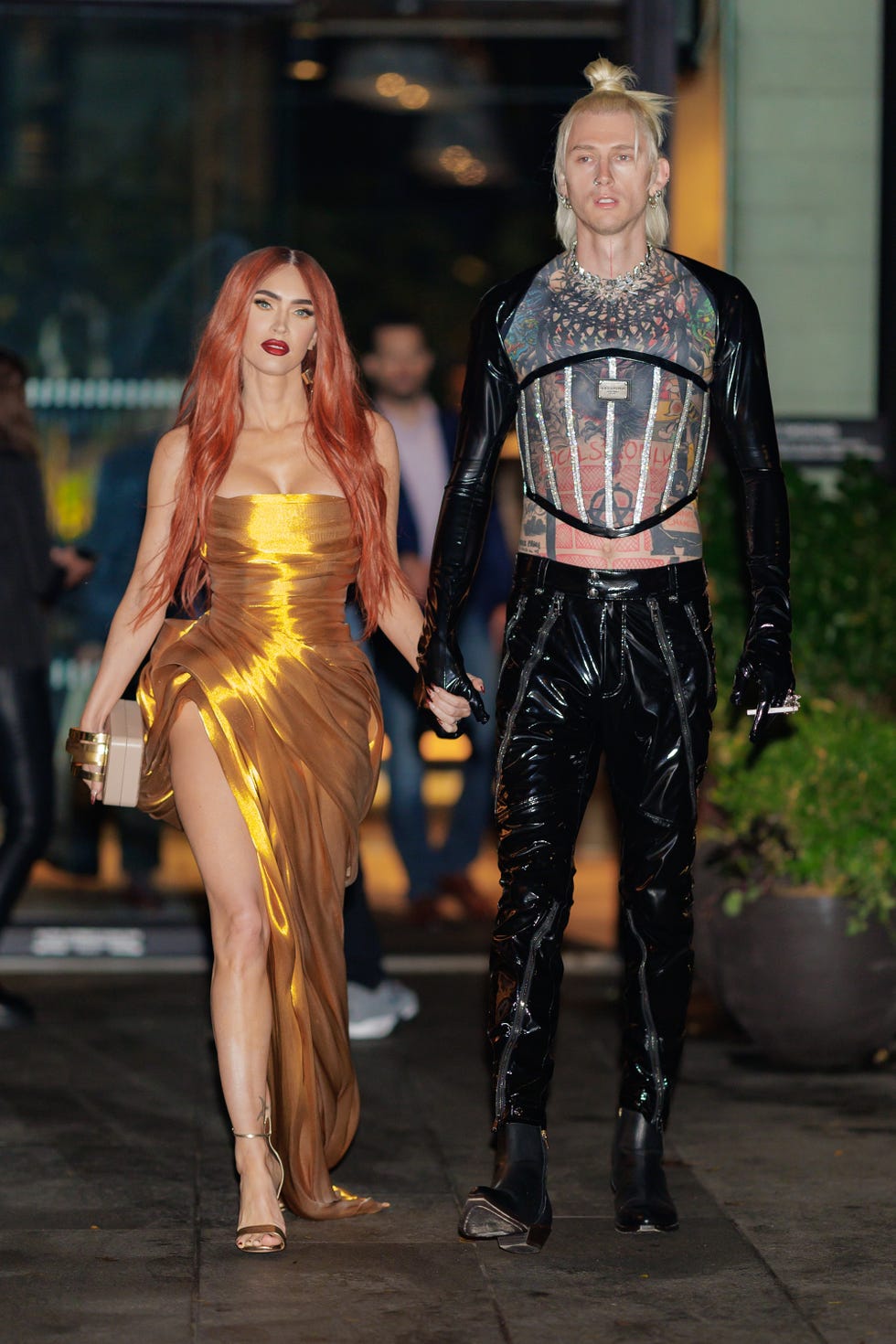 THE HAPA BLONDE//Getty Images
September 12, 2022
No comment, just these photos:
September 6, 2022
A source chats to Entertainment Tonight about breakup rumors and pretty much shuts them down:
"As of now, Megan and MGK are doing really well regardless of the breakup speculation. They both have been super busy work-wise, and personally speaking, having kids of their own, they are naturally swamped on that front as well. All is good between the two of them and they are still making time for each other and their relationship. Their wedding plans are still on, but being as busy as they are, they are taking everything one day at a time."
August 17, 2022
Amid persistent breakup rumors, a source tells TMZ that MGK and Megan are still very much together. In fact, he was heard calling her his "wife" during a recent show in Cleveland. So no need to spiral!
July 29, 2022
A source tells Entertainment Tonight that MGK and Megan are (a) pretty much done with wedding planning and (b) thinking about having a baby!
"Megan and MGK are pretty much done wedding planning," the source says. "They are both totally on the same page, which has made things easy for them, but Megan is definitely pulling everything together and has the final say on what goes and what doesn't. They are so excited to spend the rest of their lives together, traveling the world, living in complete bliss and harmony, and potentially expanding their family one day."
June 27, 2022
Megan and MGK attend the premiere of his new Hulu doc, and Megan reveals that they haven't made solid wedding plans yet, telling Entertainment Tonight, "No, [we aren't married], we don't know what's happening. He's on tour this year.…When it needs to happen, the universe will open up and give us the space to do that."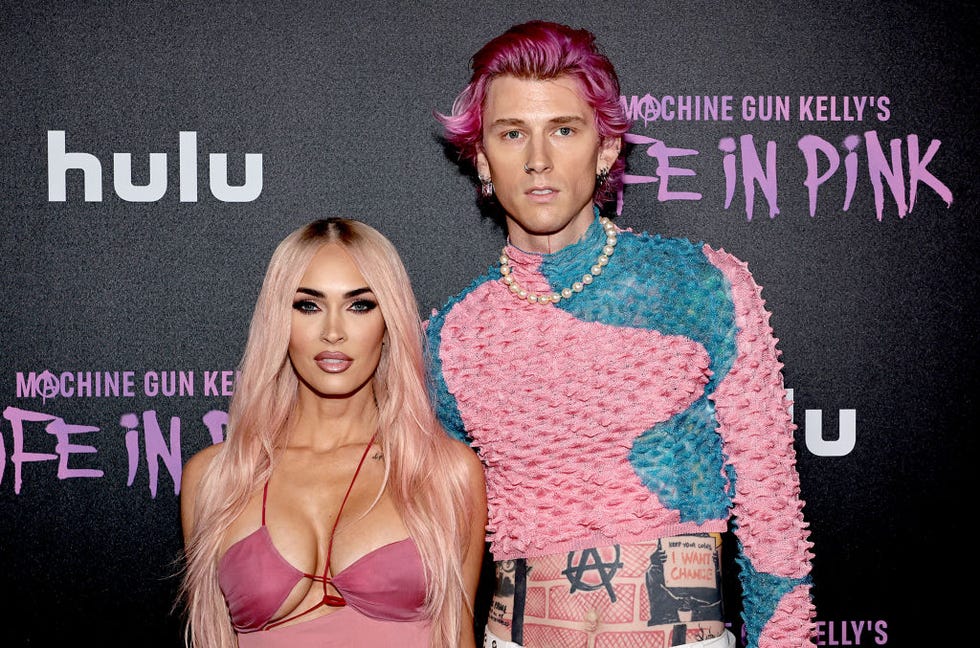 Jamie McCarthy//Getty Images
May 16, 2022
Megan drops screenshots of texts she sent her stylist Maeve Reilly revealing that she and MGK cut a hole in her jumpsuit so they could have sex. ¯_(ツ)_/¯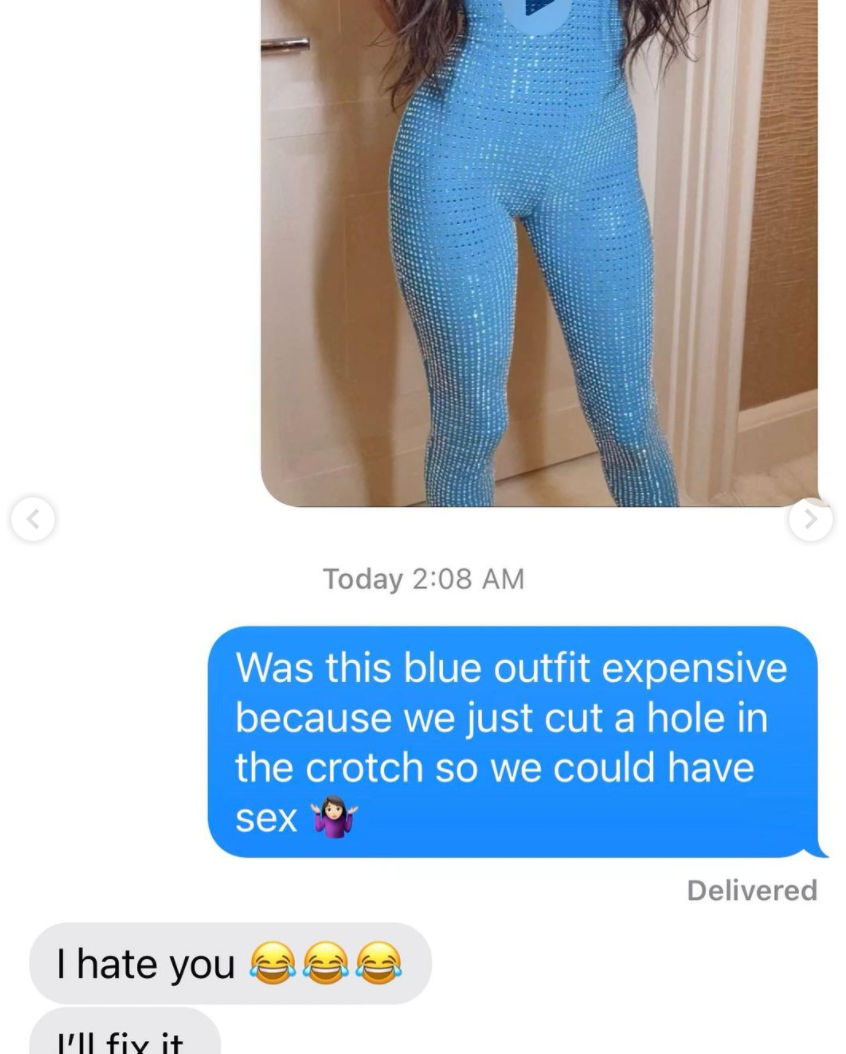 Instagram
May 15, 2022
MGK gives an emotional performance of his song "Twin Flame" at the Billboard Music Awards, saying, "I wrote this song for my wife," and then adding midway through, "And this is for our unborn child."
May 12, 2022
Megan and MGK show up to the premiere of Good Morning looking all kinds of in love: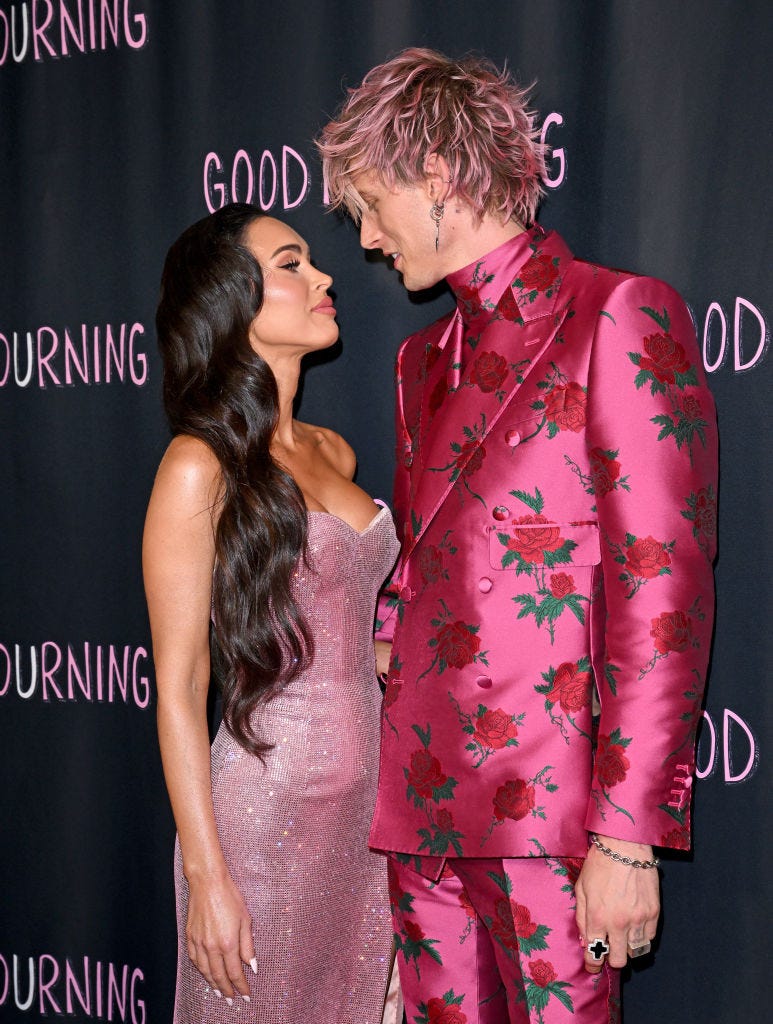 Axelle/Bauer-Griffin//Getty Images
April 13, 2022
Everyone makes a BFD of Megan allegedly dodging MGK's PDA on the red carpet:
But honestly, maybe she was just focused on the task at hand!
March 2, 2022
Megan and MGK get a kitten!!!! HI, WHISKEY!
February 20, 2022
Megan and MGK sit courtside at the NBA All-Star Game and the announcer accidentally refers to Megan as MGK's "wife." Her reaction is so cute though:
January 12, 2022
Megan and MGK get engaged! The proposal goes down where they first met, and their Insta captions announcing the news are…something else! Lemme just go ahead and…
November 3, 2021

Someone tells Entertainment Tonight that MGK "has been telling friends that he's planning to propose" to Megan. "They're very in love and beyond obsessed with each other," the source adds. "They are ready to take this next step in their relationship." TBH, this kind of makes sense also because their pals Travis and Kourtney just got engaged. So for all you fans of the couple, now the ring watch officially begins (even though, as discussed, we've been doing it this whole time).
October 11, 2021
British GQ sits down with the couple and it is jam-packed with tidbits about their relationship. First, there's the cover, with Megan holding a gun to MGK's…you know!!
Then there's the very beginning of the story, where they're giving each other "the darkest fairy tale" tattoos (one of the first texts they exchanged). There's the fact that they're working on a super-secret film project together. There's the story of how they met at a party, where Megan was like, "You smell like weed," and MGK responded, "I am weed," and then vanished. They say they literally couldn't see each other's faces in that first moment, and Megan says it's because "I think we weren't allowed to see each other yet. We weren't supposed to run into each other that night, so our souls, our spirit guides, were luring us away from each other, because you literally had no face, like that thing from Spirited Away. It is hard to see his face in general, but really he had no face that night."
There's the story of their first kiss, which was them just putting their lips in front of each other and breathing in and out (…k…). There's that video where Megan asks what her greatest talent is and MGK's mind immediately goes to a very dirty place. Then there's this moment, thanks to MGK: "It should be light, but also we go to hell with each other. It's ecstasy and agony for sure.…I don't want people to think anything's perfect with us. I didn't say it was the darkest fairy tale for no reason. God help you if you would've met us last Saturday."
On Insta, Megan listed the highlights of their relationship. Among other things, it includes (and I quote): "feverish obsession, guns, addiction, lots of blood, therapy, tantric night terrors, binding rituals, and the kind of sex that would make Lucifer clutch his rosary." So, there's that!
September 12, 2021
The two hit the VMAs red carpet together, and Megan wore a *very* sheer dress (custom-made by Mugler). Also, apparently, the naked dress was MGK's idea. "He was like, 'You're gonna be naked tonight.' I was like, 'Whatever you say, Daddy!'" she dished while the two were walking the red carpet.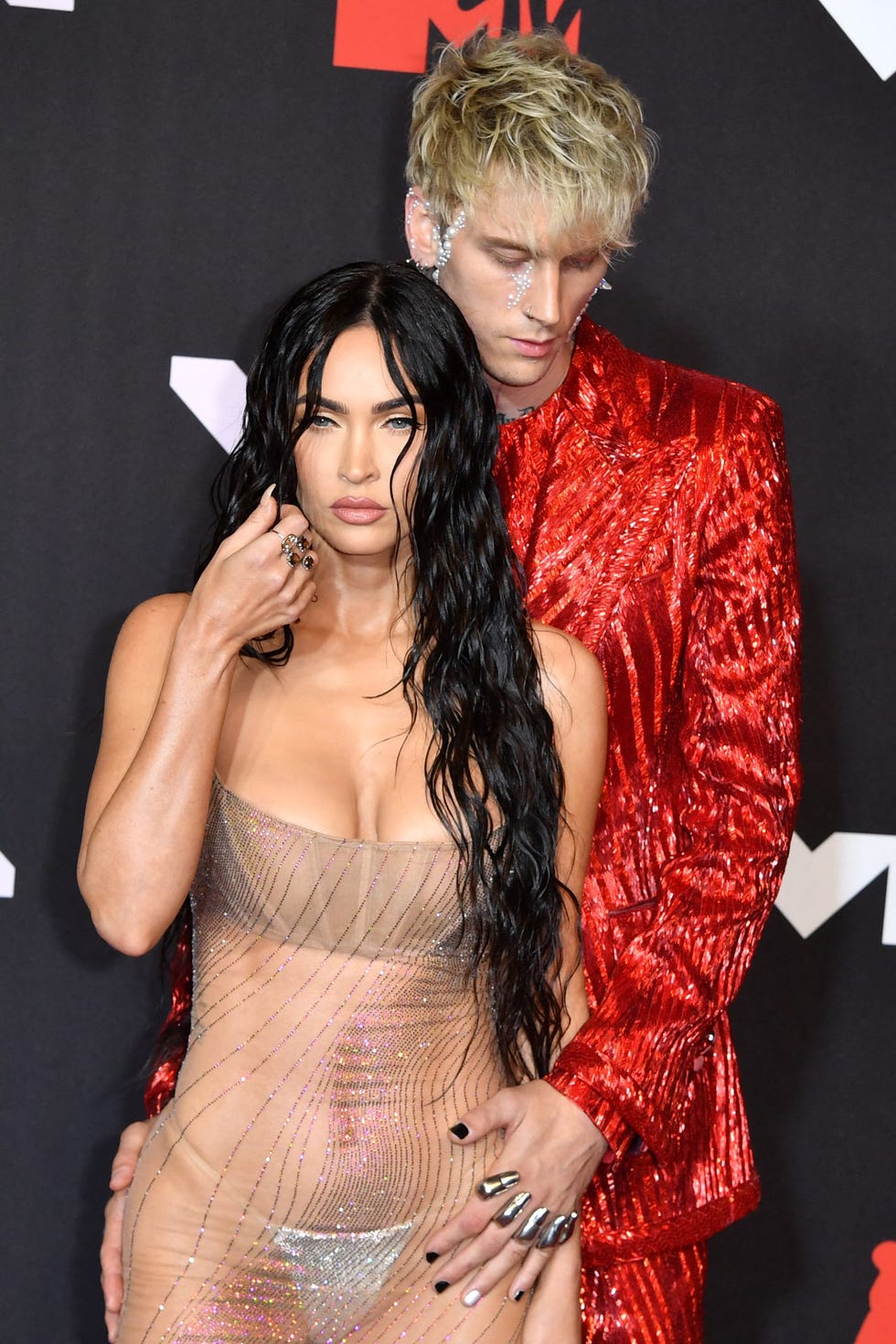 ANGELA WEISS//Getty Images
Megan's pal Kourtney Kardashian and her BF at the time (now fiancée) Travis Barker, MGK's drummer and producer, also attended, so (naturally) Megan and Kourtney took to the stage to intro them as their "future baby daddies":
And then they all had a double date afterward, which I kind of love (the most important deet I need you to know: Megan changed out of her naked dress).
August 30, 2021
Megan posts some photos of herself running errands—in the most intense sexy-amazing green cutout top showing off her whole stomach—jokingly captioning it, "This is how I go to Erewhon now. Let's talk about it." MGK, who spotted in one of the pics that her lock screen was a pic of him, immediately wrote back: "What aisle are you gonna be in? I like your lock screen." Now that's love.

July 31, 2021
Megan is absolutely ~glowing~ at Lollapalooza in Chicago: MGK is performing onstage, and she might as well have hearts coming out of her eyes. It's…the most adorbs?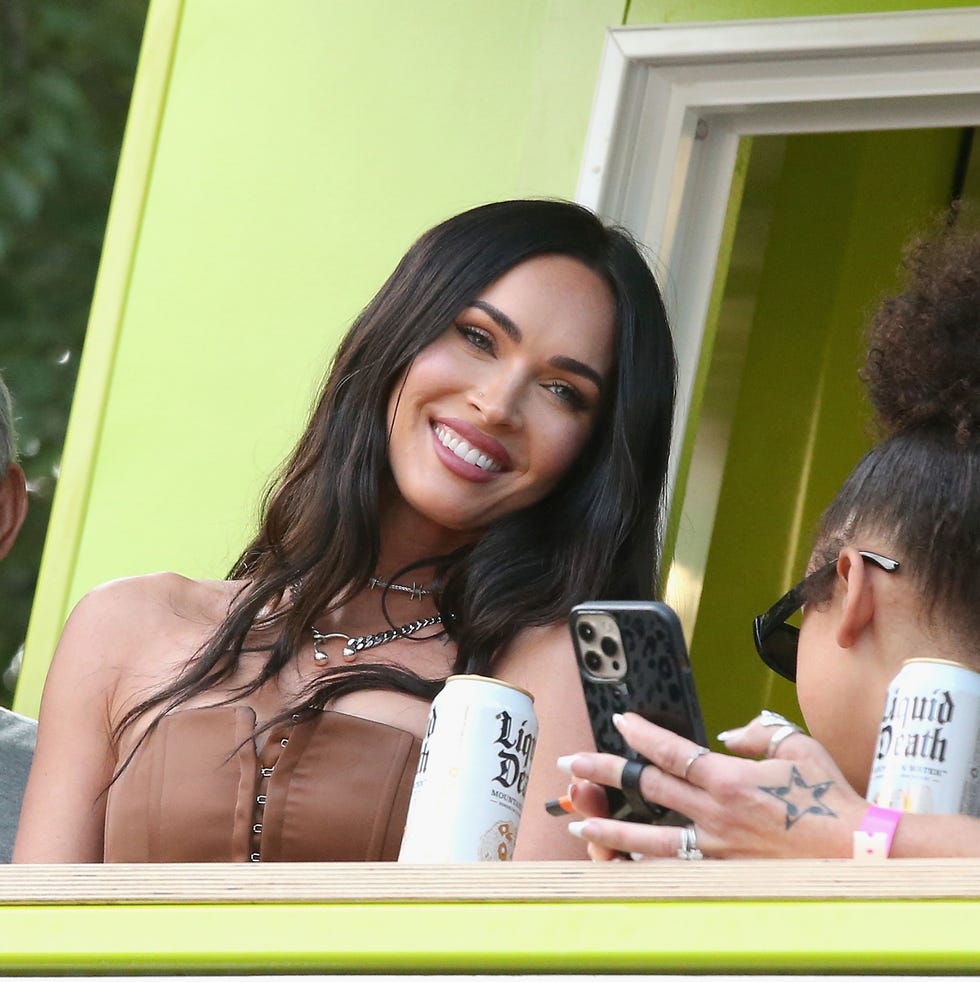 Gary Miller//Getty Images
July 7, 2021
Megan is InStyle's newest cover girl, and MGK actually shows up on-set to support his GF. Oh, and gives some to-die-for quotes about his relationship with Megan in the corresponding interview, of course.
When said interviewer asks MGK to describe Megan in a word, he says, "She's like the earth. When it's summer, it's the hottest summer. When it's winter, it's the most amazing chill. In the fall and spring, it's a beautiful transition. She is unlike any person I have ever met in my life." BRB, crying!
But if that wasn't enough, he adds, "I just want people to understand this is real. I don't think people get the opportunity to believe in real, great love, and that's what we have together."
Meanwhile, Megan gets real about the hate she receives for being slightly older than MGK. "The fact that he's four years younger than me and people want to act like I'm dating a younger man. He's 31, and I'm 35. Granted, he's lived like he's 19 his whole life, but he isn't 19. No one would blink twice if George Clooney was dating someone four years younger," she says. "Four years? Go fuck yourself. We would have been in high school together. That's so ridiculous that women are treated that way."
July 6, 2021
BAG posts a loved-up picture with his new GF Sharna Burgess with this (maybe passive aggressive) caption: "It's been a really long time since I've been with someone I can truly share life with. ❤️" Sharna wrote in the comments, "There's no one else I could ever imagine sharing it with. I love you." And then Megan also wrote in the comments: "Grateful for Sharna 💜." The Internet predictably exploded: Was it a subtle diss? Was she just taking the high road? Are they all actually getting along? Someone tell me what it means!!
June 17, 2021
(Not) Surprise(d): Megan and MGK "are pretty inseparable" at the moment, according to Entertainment Tonight. There's even a chance Megan will join MGK for his Tickets to My Downfall tour in early September. "Assuming all continues to go well, it's looking likely that [Megan] will join him on tour," a source tells the outlet. "Not full-time, but you can expect her to be around, and there's no question about that."
MGK even has babies on the brain, which, !!!! "MGK would love to start a family with Megan someday, but right now doesn't seem to be the time in terms of scheduling," ET's source adds. "As far as engagement goes, it is likely that this will happen sooner than later and it has been a topic of conversation without question."

Just don't expect a baby or engagement to happen anytime soon, because Megan's and MGK's "schedules are starting to get super busy again, so they just want to make sure that the timing is right since it would be a big step for both them and their families."
May 23, 2021
Sooo those Sommer Ray allegations didn't seem to put a dent in Megan and MGK's relationship at all, because they show up—and OUT—to the Billboard Music Awards and do the absolute most with their PDA. I mean, it's literally tongue-out, hand-on-the-crotch level of inappropriate for a red carpet, but hey, they're in love!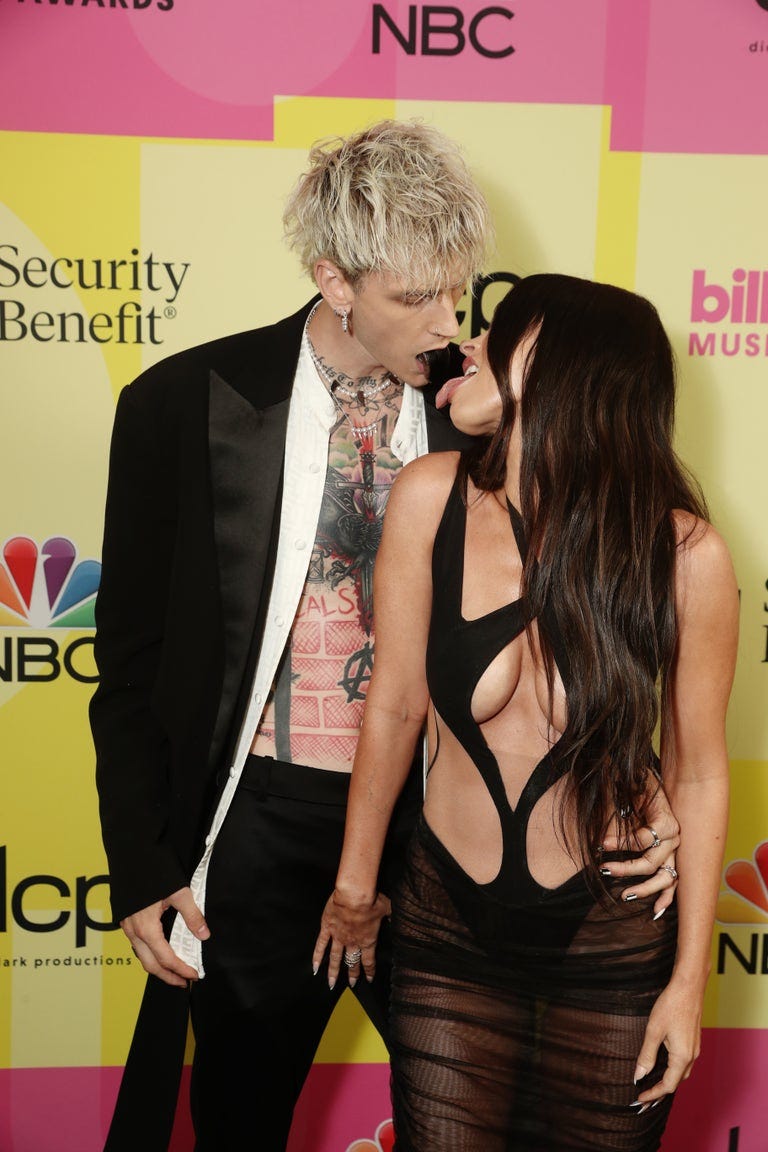 Instagram
March 26, 2021
MGK's ex Sommer Ray hits the couple with a round of cheating rumors. 😬 During an appearance on Logan Paul's Impaulsive podcast (via Us Weekly), Sommer reveals she used to date MGK but "never had sex with him.…I make you wait at least three months. I have to make sure that you're someone good to me. So Colson just never passed the test."
She then adds, "I don't really feel bad saying that because he did kind of cheat on me with Megan Fox," and says MGK actually extended an invite for her to go to Puerto Rico. (MGK and Megan were filming their movie Midnight in the Switchgrass during their PR trip.)
"I waited in the hotel the whole time while he's filming with her and I'm not really thinking anything of it. I thought she was older and had kids and was married and stuff," she continues. "I think they're a cute couple.…I'm not mad about it. I want them [to have] the best."
February 11, 2021
MGK is in the Valentine's Day spirit and decides to sell a sweatshirt on his website of him and Megan sharing a smooch. It's almost too good to be true, but if you feel so inclined to purchase, you can do so below:
February 2, 2021
Another day, another update about BAG being salty about Megan and MGK's relationship. Reports say Megan would like to get started on her happily-ever-after with MGK, but Brian's kind of dragging out their divorce.
"Brian is definitely not making it easy or doing things quickly," a source tells E! News, adding, "Megan would like to wrap it up and get it finished as quickly as possible, but Brian is not exactly working with her on that." 😬
The source adds Megan is "very serious with MGK and sees him as her soul mate and life partner. They plan to be together forever. She wants the divorce to be done with so she can move on and move ahead."

January 30, 2021
Sike! Turns out the Megan and MGK engagement rumors aren't true after all (*sobs*). According to a Peoplesource, Megan and MGK are "very serious and plan on spending the future together. There will be an engagement at some point, but they are not engaged now." The source adds, "Megan needs her divorce to be finalized before she can fully move on. She is very happy though." To make it crystal clear, Megan hops on Instagram to post a Story showing off a ring on her wedding finger that says "Fuck You." That's one way to silence gossipers!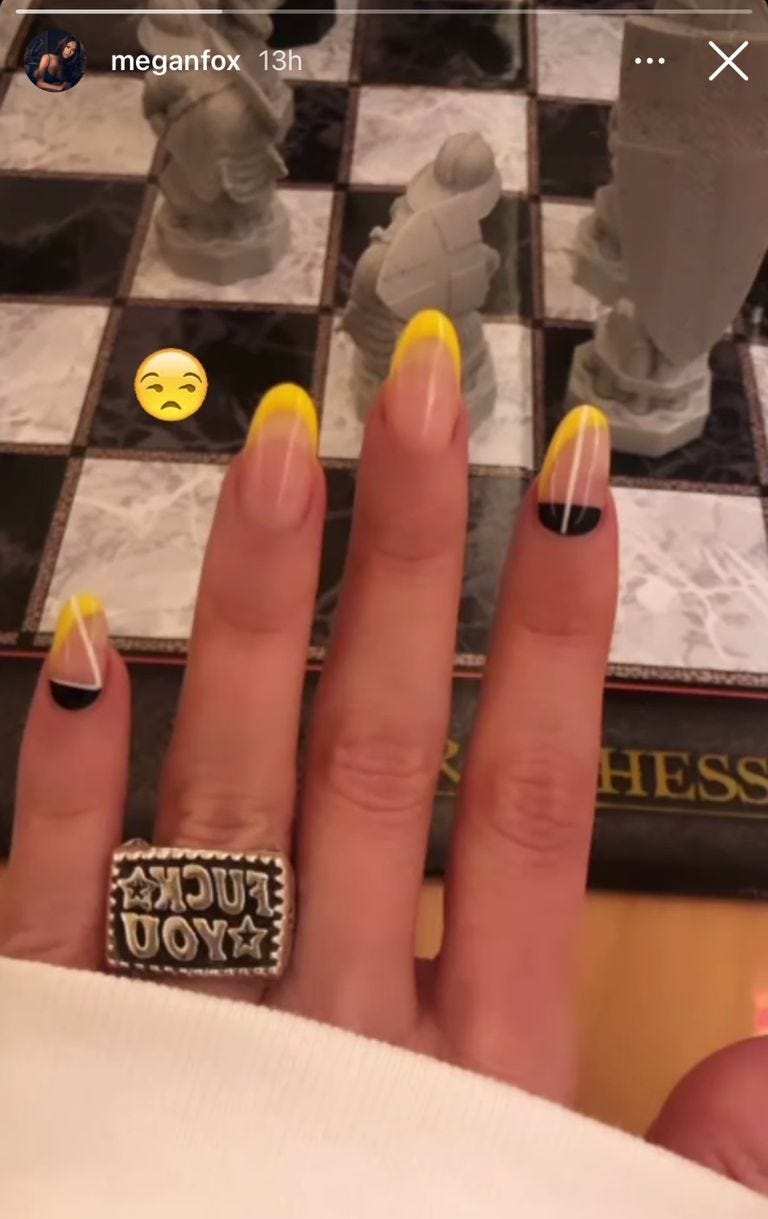 Instagram
January 28, 2021
Megan and MGK finally reach a major celebrity couple milestone—engagement rumors! After Megan is seen out and about wearing a massive ring on her wedding finger (peep the pics here), fans naturally start speculating if a wedding is on the horizon.
Megan and MGK keep quiet…but considering sources have said MGK has no issue with wifing Megan up (see: December 19 on this timeline), let's not be surprised if it pans out.
January 1, 2021
Megan and MGK share the cutest kiss after he completes his performance on Dick Clark's New Year's Rockin' Eve. *cries single-woman tears*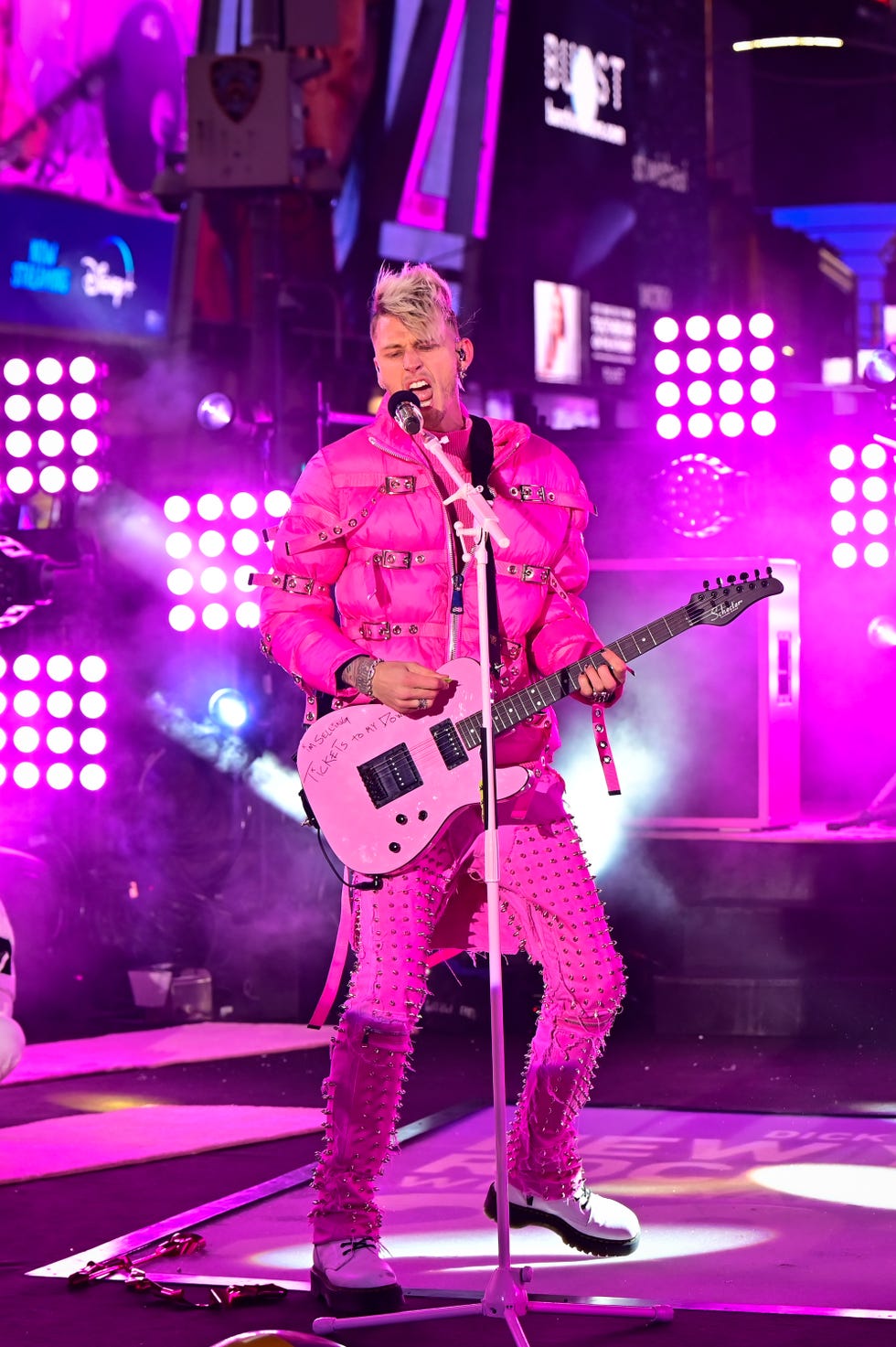 Jeff Neira//Getty Images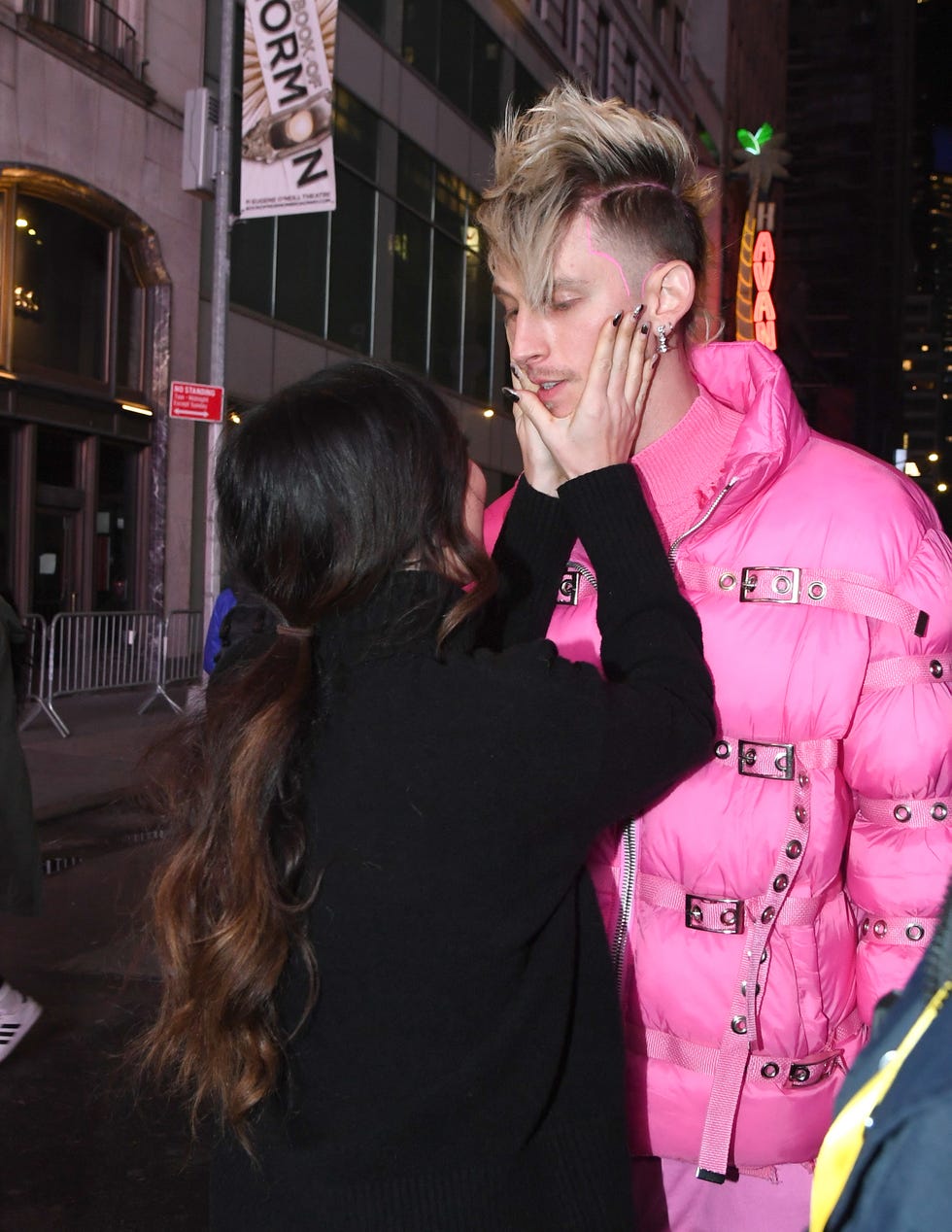 Kevin Mazur//Getty Images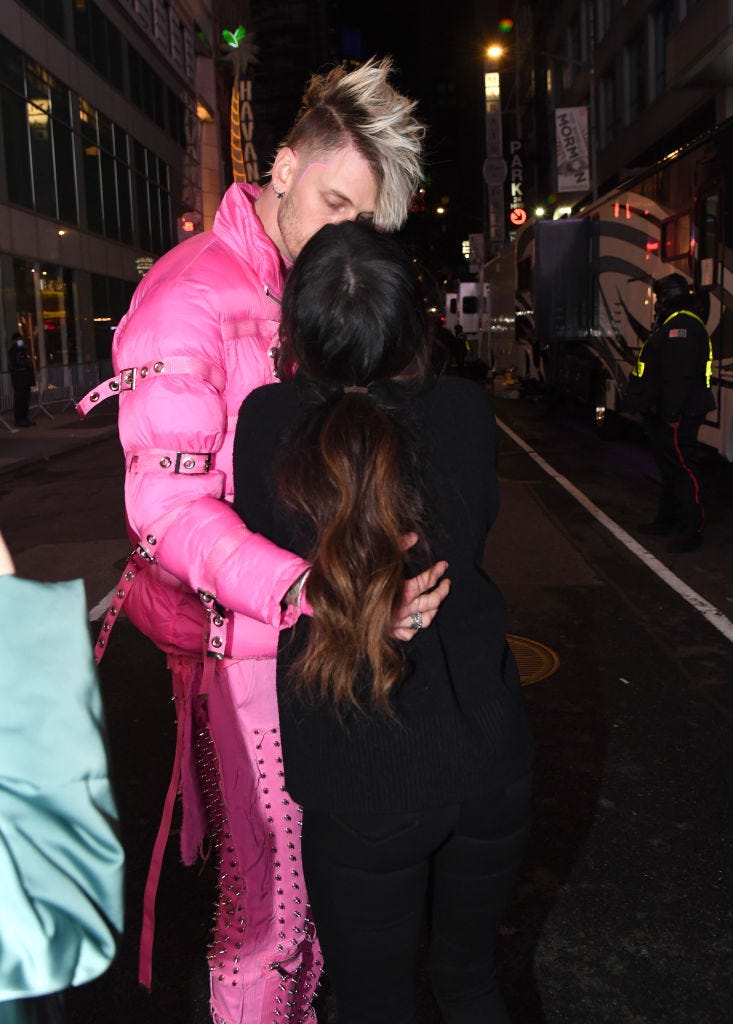 Kevin Mazur//Getty Images
December 19, 2020
MGK is hearing wedding bells! According to an Entertainment Tonight source, "MGK and Megan make each other laugh and that's a big thing for Megan. They keep each other smiling…MGK totally sees marriage in his future with Megan and friends could one hundred percent see them getting engaged within the next year."
Megan? Yeaaah, she's not in a rush to tie any knots. The source added that she "doesn't think about getting engaged [or] married and she doesn't put a timeline in place and it's not something that really crosses her mind."
December 3, 2020
New reports claim Megan's anxious to get her divorce proceedings with BAG out the way so she and MGK can properly start their future together. "Megan has planned to file for divorce for a while. She and Brian already agreed to a custody plan so Megan hopes the divorce will happen quickly and be uncomplicated," a source close to Megan told People.
"They are making plans for the future and want to live together. Megan has been taking things slowly, though, to make sure her sons are doing okay," the source added. "They are getting to know him now."
November 23, 2020
Megan and MGK make their first red carpet appearance as a couple at the AMAs. And surprise—Megan has the teeeeeniest tattoo on her collarbone dedicated to MGK that says "el pistolero." Yep, that means "gunfighter" in English.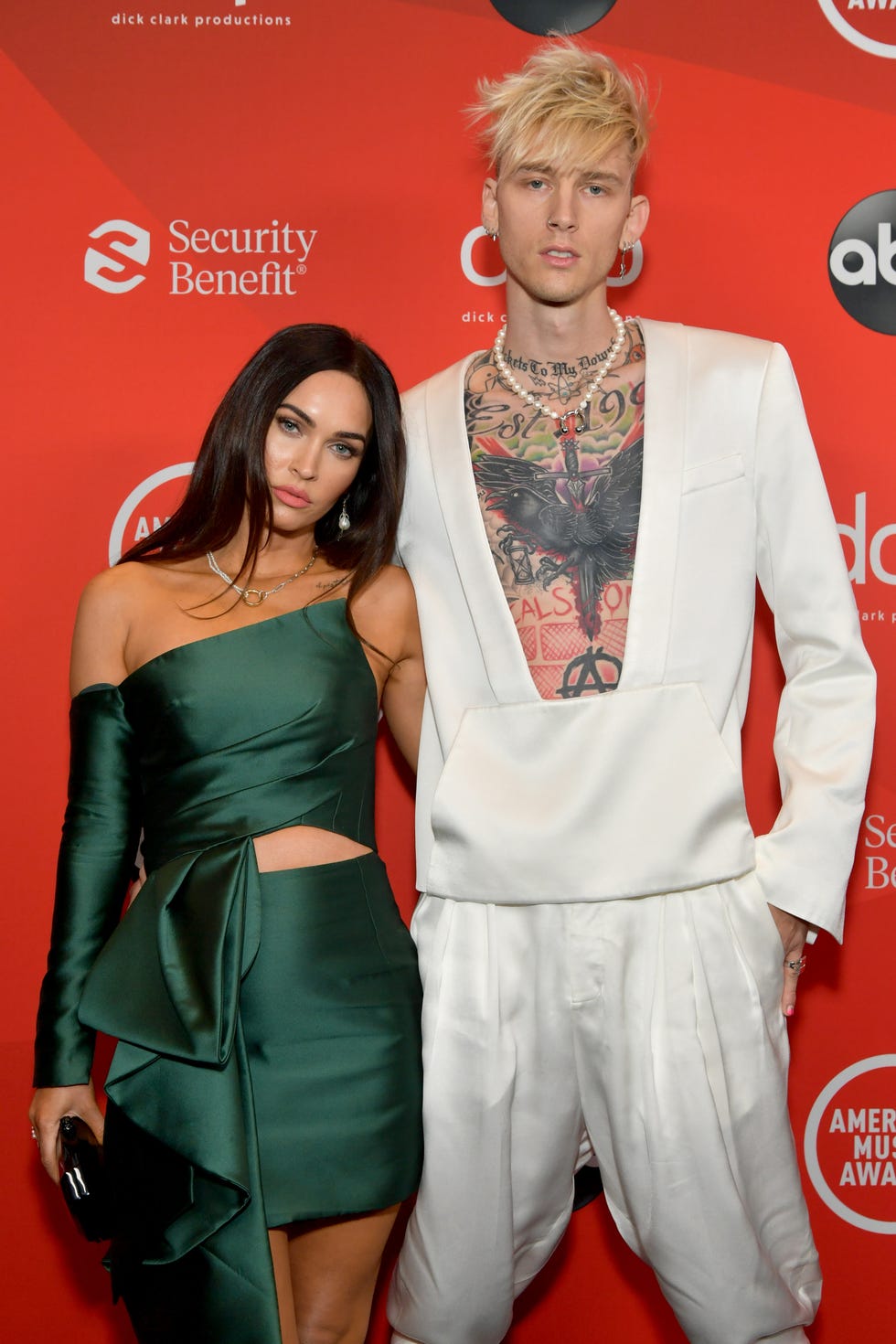 Emma McIntyre /AMA2020//Getty Images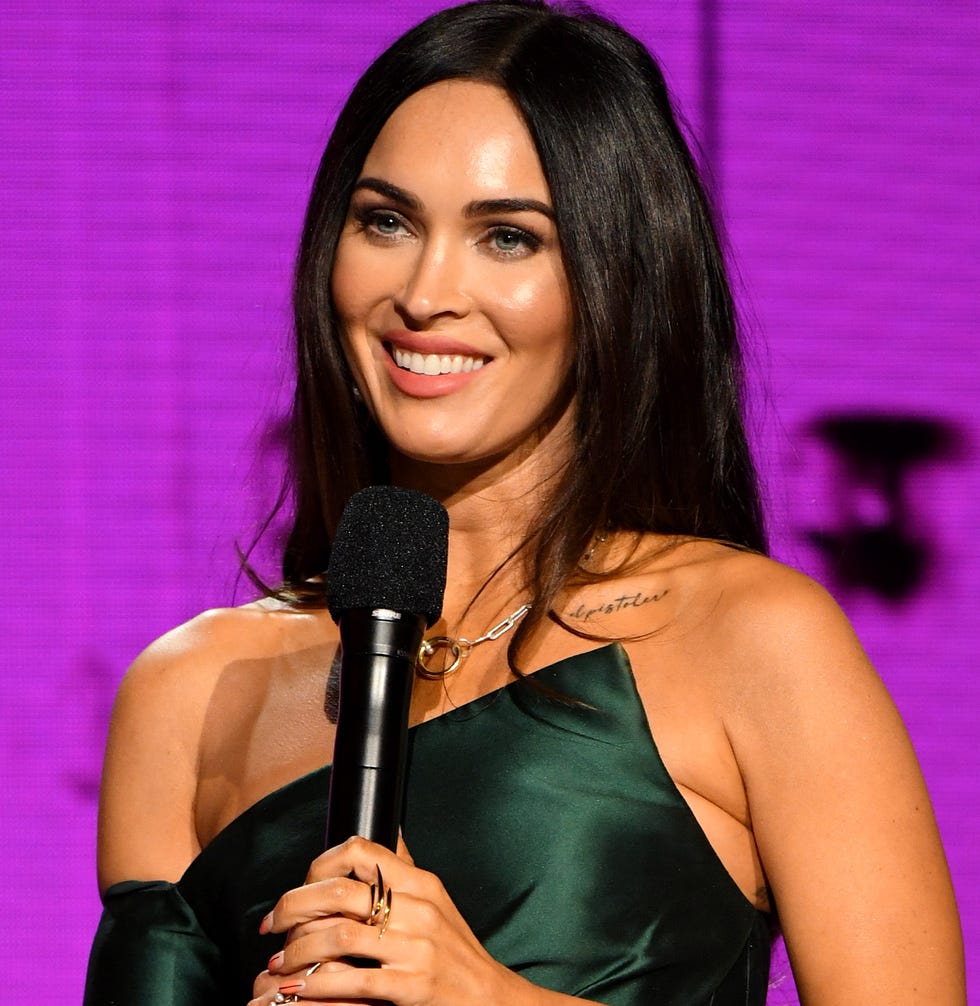 Kevin Mazur/AMA2020//Getty Images
November 17, 2020
Machine Gun Kelly is Nylon's latest cover star, and in his cover interview, Megan Fox took the opportunity to gush about their "once-in-a-lifetime thing," calling it a connection of "mythic proportions."
"Loving him is like being in love with a tsunami or a forest fire," she said. "The intensity of merging with him is just overwhelming, and the threat it poses is so powerful but so beautiful that you have no choice to surrender with reverence and with gratitude."
After Megan and MGK met during Midnight in the Switchgrass, Megan told Nylon she knew immediately that they had a connection. "I looked into his eyes [and] I felt the most pristine, most gentle, most pure spirit. My heart shattered immediately and I just knew that I was fucked."

September 30, 2020
The artistic collabs just keep coming with these two. Megan made a short cameo in MGK's new music video for "Drunk Face," where they kiss, because of course they do.
September 24, 2020
It's official: MGK and Megan's poetic relationship appropriately included love at first sight. At least, it did according to MGK, who spared no details when dishing about his love life to Howard Stern.
"I didn't know what [love] was until me and her made eye contact," he said. "That's when I was like, Whoa."

He went on to talk about how he would "just sit there and hope" something between them would happen on the set of Midnight in the Switchgrass.
"It was my first experience with being open to love and stuff like that," he added. "I definitely wasn't set up to believe that that's something that could ever exist."

September 18, 2020
MGK and Megan celebrated when his song started playing on the radio. Cute! But please focus on the road, y'all!
September 11, 2020
Now, Brian reportedly "isn't devastated by their split anymore" and doesn't care that they're "flaunting their relationship publicly." Good for him! Back to the real main characters in this news cycle!
September 10, 2020
MGK met Megan's kids! It's unclear if she also met his 12-year-old daughter, but they are obviously progressing in their relationship. An Us source even added, "It's too soon [for marriage] for everyone, both of their kids and Brian included. They are definitely super into each other. MGK is obsessed with Megan."
August 29, 2020
Brian went on Instagram Live and implied that he and Megan could get back together because they have a mutual understanding that they're doing their own things right now. "I never say never," he said. "I kinda feel like people are on paths in life and sometimes your paths are together and you travel that path together and you see eye to eye and then sometimes paths do different things."

August 14, 2020
When fans tried to thirst after MGK, he shut it down and made it clear that he's only "sucking one pair of toes."
True love.
August 12, 2020
Surprise, surprise. Brian is reportedly "annoyed that [Megan] is so focused on her relationship with Machine Gun Kelly." ¯_(ツ)_/¯
August 5, 2020
Megan posted a shirtless pic of MGK on her feed and wrote, "Achingly Beautiful Boy…My heart is yours. 🔪♥️🔪"
Which Brian later mocked by posting pics of his sons and copying the caption.
Somebody is an achingly petty boy.
August 3, 2020
Brian went on the Hollywood Raw podcast to say some cryptic stuff about how he found out Megan and MGK were dating and suggested that he's going to keep everything mature. Brian revealed, "I found out in my own way. And that's as much detail as I'll give you on that one.…I try to not read anything or look at anything and not involve myself in it. Just keep my head down and do what I do and focus on the kids."
However, the high road approach didn't last long because two days later…
July 28, 2020
MGK made their relationship Instagram official!
July 22, 2020
Megan and MGK gave their first joint interview and spilled so much.
Talking to Lala Kent and Randall Emmett about filming Midnight in the Switchgrass, Megan said she had a feeling something would happen between her and MGK when he was cast. She explained, "Because I knew—I could feel that some wild shit was going to happen to me from that meeting, but I wasn't yet sure what. I just felt it like, deep in my soul—that something was going to come from that."
She went on to say:
"I knew right away that he was what I call a twin flame. Instead of a soulmate, a twin flame is actually where a soul has ascended into a high enough level that it can be split into two different bodies at the same time. So we're actually two halves of the same soul, I think. And I said that to him almost immediately, because I felt it right away."
Astrologist Susan Miller also appeared on the podcast and told them they are destined for marriage. Megan stated that they weren't engaged, but when Susan said that MGK was meant to be with someone who is "happy, or it could be a scholar," he said, "Yeah, Megan is always really happy." *screams internally*
June 16, 2020
An E! source claimed that although Megan and MGK clearly have something going on, Brian isn't ready to file for divorce just yet. They explained, "He wants to give Megan space and is hopeful they will find their way back to one another. It's been hard to see her get back out in the dating world, but he is trying to fill his time with his kids and friends."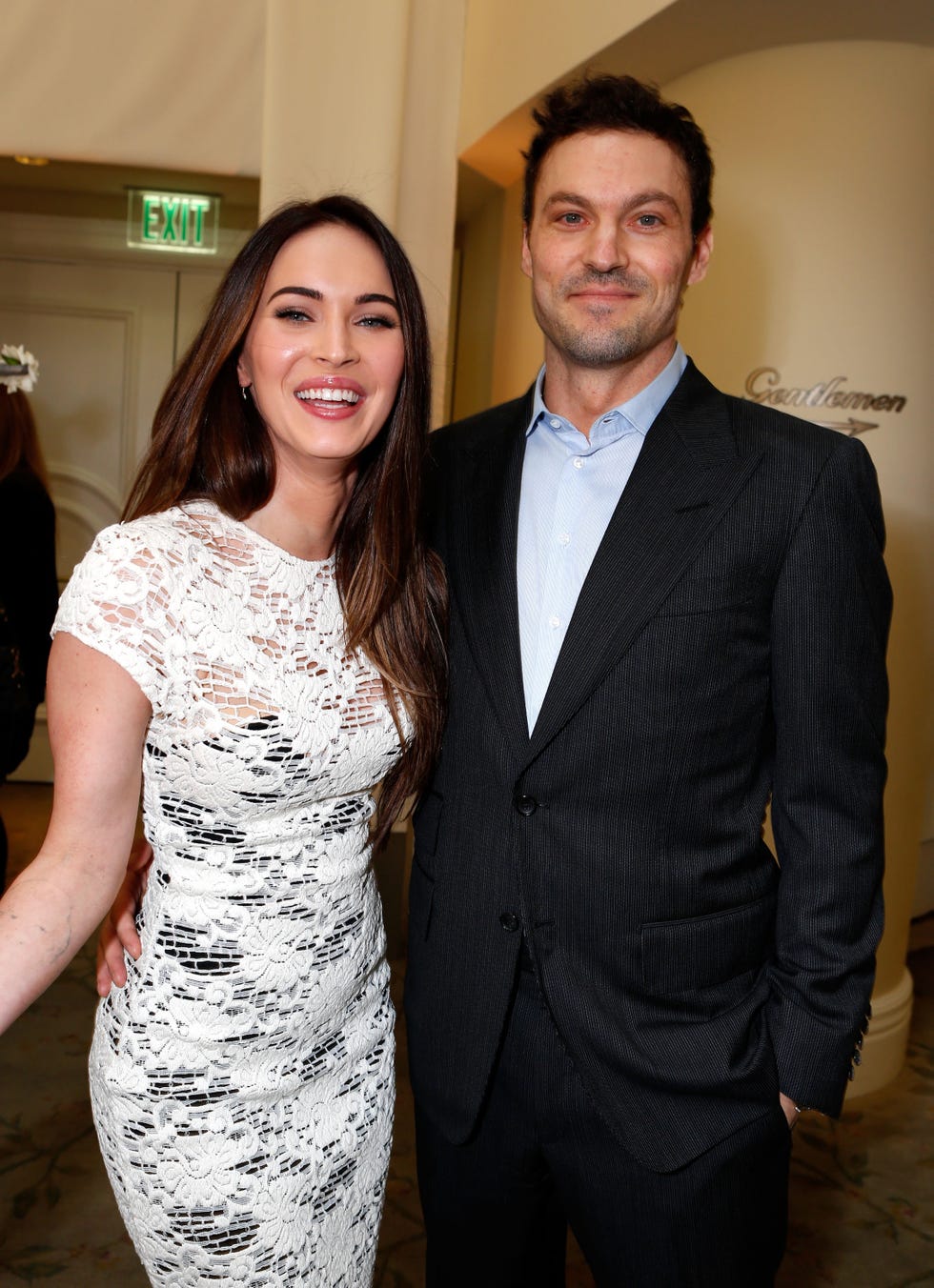 Alexandra Wyman//Getty Images
June 15, 2020
The Daily Mail published pics of Megan and MGK kissing after a night out in Sherman Oaks, which you can check out right this way. MGK later tweeted his "Bloody Valentine" lyrics and wrote, "'I'm calling you girlfriend, what the fuck.' Life imitated art on that one."
May 20, 2020
MGK finally released his much-anticipated "Bloody Valentine" music video, and Megan is alllll up in it as his onscreen girlfriend.
MGK later opened up about the creative direction for the video and basically pulled a stan Twitter move and said it was vital that she step on his face. Two months later, he told Teen Vogue, "It's no secret. I think feet are beautiful. And I think Megan has the most beautiful feet that exist." He went on to explain, "I was like, 'Megan, you already know what I'm about to ask you. And she was like, 'Yeah, I literally got a pedicure just 'cause I knew you were gonna ask me that.' So I was like, 'All right. Well, plop it on.'"
And now we have this GIF!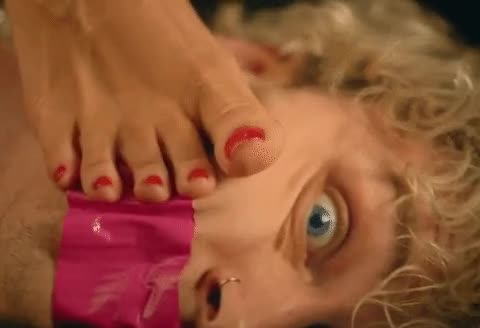 Literally That Same Day
Uhh, a source told E! a different story and made it clear that Megan and MGK are more than just friends. They spilled, "Megan has been working on a movie with Machine Gun Kelly and gotten close to him. They are hooking up and have been for a little while. She is separated from Brian Austin Green, and they are taking time apart as a couple. She has something going on with Machine Gun Kelly that she is excited about."
May 18, 2020
Brian confirmed during his podcast that he and Megan split in December 2019. He explained how the end of their decade-plus entanglement happened:
"She said, 'I realized when I was out of the country working alone that I feel more like myself and I liked myself better during that experience and I think that might be something worth trying for me.' I was shocked and I was upset about it, but I can't be upset at her because she didn't ask to feel that way. It wasn't a choice she made, that's the way she honestly felt."
At the time, Brian also said that while he hadn't met MGK yet, Megan did talk about him and he knew that they were "friends at this point." The Beverly Hills, 90210 actor continued, "I really don't want Megan and I to be at odds. She's been my best friend for 15 years, and I don't want to lose that."
May 16, 2020
*Billy Eichner voice* And away we go! Brian posted a telling message on Megan's birthday. He wrote, "Eventually butterflies get bored sitting on a flower for too long. They start feeling smothered. It's a great big world and they want to experience it."
Think this is a reference to Megan's back tattoo (which says "we will all laugh at gilded butterflies")?
May 15, 2020
The Daily Mail published photos of Megan and MGK getting takeout together in Calabasas. By this time, Megan and Brian had been seen without their wedding rings, and this outing set the stage for Brian's first cryptic Instagram post.
April 15, 2020
Major development: Megan and Brian were seen exchanging their kids and a car seat in a Calabasas parking lot, suggesting they transitioned to co-parenting their three young sons (Noah, Bodhi, and Journey).

March 2020
Right before 2020 took a turn for the worst, the Jennifer's Body and The Dirt actors met on the set of their new thriller Midnight in the Switchgrass. Filming shut down after only two weeks, but clearly, that was long enough for them to form a connection. At the time, a source told E!, "The downtime has been good for them.…They are intrigued by each other and having a lot of fun."
And that brings us up to date! The next time Megan and MGK get their make-out on in a public place (or get married!!!), you can bet we'll keep you updated.

News Writer
Shannon is a news writer at Cosmopolitan.com, and when she's not obsessing about Cardi B, she's thinking about Justin Bieber and still trying to memorize Beyoncé's Beychella choreography. 

Assistant News Editor
Starr Bowenbank is the assistant news editor who writes about all things pertaining to news, pop culture, and entertainment—you can follow her here. Writing aside, she loves singing literally everywhere, dancing in the street, hanging out in the East Village every chance she gets, and making her dreams come true.

Contributor
Katherine J Igoe (she/her) was a contributing editor for Cosmopolitan and is a freelancer covering style, lifestyle, culture, and beauty (she's obsessed with gift guides, best-of movie lists, and beauty products). She's been a freelance writer and editor for over a decade, previously working for Marie Claire (2018 to 2021) and Bustle (2021), with bylines in the The New York Times, Parents magazine, and elsewhere. She lives in Boston with her family, and you can follow her on Instagram or Twitte. It's "I go to dinner," not "Her huge ego," but she responds to both.