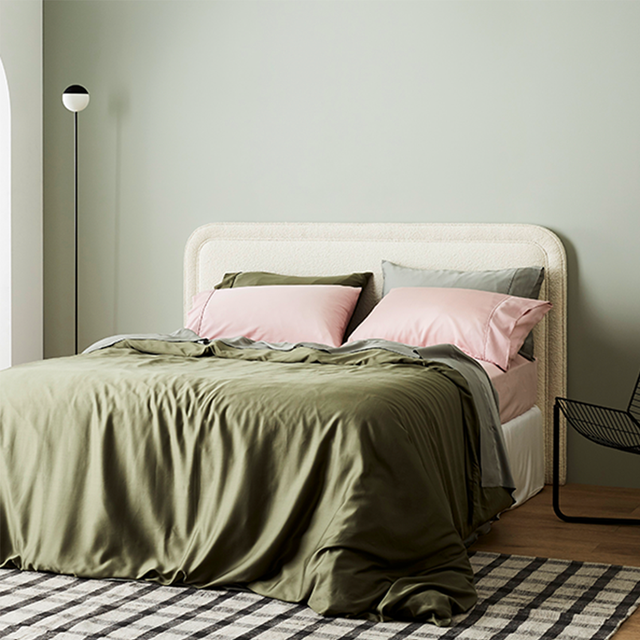 Courtesy
Hey, hot sleeper, if you think your night sweats will just magically go away with time or you're totally cool with waking up in the middle of the night to kick off your blanket (only to wake up again to put back on the said blanket), then you're not giving your body the treatment it deserves. Like, c'mon! Cooling blankets exist for the very purpose of wicking away moisture and absorbing heat to cool you down. I mean, how nice and relieving does that sound?
Lucky for you, I've got a list of only the best of the best cooling blankets so you don't have to waste all that time and effort researching it (you're welcome). Even if you have a preference for material—maybe you're looking for one made of 100 percent bamboo or you love a knitted blanket—you'll see there are tons of top-rated cooling blankets to choose from here. And, yep, all of them have that breathable fabric you've been itching to feel. Because from here on out, we're not succumbing to uncomfortable, clammy sleep. No ma'am!
Our top picks for the best cooling blankets in 2022
Go on and free yourself from sweaty sleeps by investing in one of these top-rated cooling blankets. BTW: If you think you'll need to replace your whole bedding sitch once you get your hands on a cooling blanket, check out these cooling comforters and pillows. You're welcome.
this near five-star rated blanket
Sleep Number True Temp Blanket
If a brand's got raved-about mattresses, you can trust that it's gonna have top-notch bedding. Sleep Number's cooling blanket is specifically made with a special kind of technology that wicks away moisture so you never have to feel hot and sticky while you're using it. (BTW: It also comes in other super chic neutral colors that'll def match your muted ~aesthetic~.)
THE REVIEWS: "This blanket breathes. It helps regulate your body temperature," one reviewer writes, "It could be the best blanket we've ever owned."
this thin one
Elegear Cooling Throw Blanket
some reviewers say it's smaller than expected
One side of this silky blanket is made of cooling fibers to absorb body heat while the other side is made of super-soft natural cotton. Oh, and bonus points for it being hypoallergenic!
THE REVIEWS: "I used to have night sweats but since I got this blanket I haven't woken up hot or sweaty," one reviewer writes, "The one night I didn't use the blanket I woke up sweating. I love this blanket and would definitely recommend it to anyone that is a hot sleeper or has night sweats."
this inexpensive option
DANGTOP Bamboo Cooling Blanket
some reviews say it pills
IYKYK: Bamboo bedding naturally regulates temperature. And if you're on the hunt for a cooling blanket made with organic fabric, check out this top-rated one that's also v affordable.
THE REVIEWS: "I was skeptical. I sleep hot and I don't have air conditioning, despite the hot summers here in Chicago," writes one reviewer, "When you're in a cool room, this is great to cover you and still breathe. It's about as warm as a cotton sheet but breathes much, much better. If your room is very hot, this is great to put UNDER you. It helped reduce the heat from my mattress in the hottest, most humid weeks."
this weighted one
Bearaby Tree Napper
vegan
available in three weight options
may be a lil pricey for some buyers
Found: a chunky, weighted blanket that'll help you destress without burning you up.
THE REVIEWS: "I have always loved weighted blankets and this is the third brand I've purchased in the last two years," writes one reviewer. "The Bearaby Tree Napper is the first weighted blanket I've owned that stays cool all night long. The material, as well as the airflow through the open loops makes it so I don't get so hot. Love this blanket!!! So glad I bought it. Expensive, but worth it!!"
this quilted blanket
PHF Clever Cooling Blanket
some reviewers say they felt stuffy using it
This reversible blanket features a double-sided design: one cooling, moisture-wicking side and one comfy, microfiber polyester side that's great for snuggling up in.
THE REVIEWS: "I like the blanket because it is very lightweight," one reviewer writes. "It can be used for all seasons. If you need to be warm, it works. Or if you need to be cool, it works."
this waffle weave blanket
Bedsure Waffle Bamboo Cooling Blanket
some reviewers say that the threading is loose
Cooling blankets don't have to look shabby and boring! And this waffle-weave pattern one is proof. It'll serve you looks and keep you from feeling clammy while you're sleeping.
THE REVIEWS: "OMG, can I just say how much I LOVE this blanket?!" one reviewer writes, "I looked at several on Amazon before I chose this one. It arrived quickly, washed up like a dream, and dried in the dryer on low. Reviews have said that the more you wash it, the softer it will become—but it was already nice and soft. It's a total game-changer from the heavy blanket I was using and it gives just enough warmth but yet you stay cool. It's pretty hot where I live so this makes a HUGE difference. I'm so in love with it and highly recommend this one!"
this one perf for travel
Cocoon Coolmax Travel Blanket
some reviewers say it's too thin
Why, yes, portable cooling blankets do exist! Exhibit A: This packable one (that even comes with a carrying case) will provide you with all the coziness (and none of the stuffiness that comes with being ultra-cozy). And we all know the temps in planes and cars can be dicey so this will come in clutch for you.
THE REVIEWS: "I carry this in my suitcase when I travel around Europe. I've found many European hotels, hostels, and B&Bs will only provide a heavy duvet on the bed, and as someone who sleeps quite hot, I simply can't sleep when I'm sweltering under a heavy blanket," one reviewer writes."This blanket gives me an option other than a sweltering duvet or nothing at all. It's perfect because it barely takes up any room in my suitcase and is still full-sized that it can totally cover me up if I want. The material is great too, very soft."
this plant-based comforter
Buffy Breeze Comforter
Now if you just wanna go all in, I say invest in a whole freaking cooling comforter. This one from Buffy is made entirely of super-soft TENCIL lyocell (aka wood pulp turned into eucalyptus fibers) that'll absorb moisture even better than cotton and polyester.
THE REVIEWS: "I did a lot of research on cooler comforters and more eco-friendly options and found the Buffy Breeze Comforter! I absolutely love it," writes one reviewer, "It is much cooler, and it's even cool to the touch. I love the weight of this comforter, it makes my bed look so smooth and it's well made. It makes me feel very snug in my sheets. I would absolutely recommend this comforter to everyone! But especially to people looking for more eco-friendly or cooling comforters!!"
this luxe duvet cover
Ettitude Signature Sateen Duvet Cover
some reviewers say it's too slippery for them
If you don't actually want to give up your current comforter (I get it), then no prob! Cover it in this smooth and breezy bamboo duvet cover. It may not technically be a cooling blanket, but you'll love the crisp feel.
THE REVIEWS: "Love this duvet cover!" one reviewer writes. "So soft and we love that it snaps and doesn't have to be buttoned!"
What are the benefits of a cooling blanket?
Cooling blankets will wick moisture and absorb heat away from your body, resulting in a much better snooze. And according to Dr. Seema Khosla, a fellow of the American Academy of Sleep Medicine and medical director of the North Dakota Center for Sleep, "The quicker our body temperature falls, the quicker we fall asleep." So you can expect to fall asleep sooner and actually stay asleep throughout the night. Now doesn't that sound incredible?
Dr. Sarah Silverman, PsyD, a behavioral sleep medicine specialist and holistic sleep wellness consultant also agrees that cooling blankets help promote better sleep quality. "Having sheets and blankets that are breathable and promote cooler temperatures are optimal and can help assist with the body's natural process," Dr. Silverman, tells Cosmo.
So if you're a hot sleeper or on the hunt for better, cooler bedding, consider investing in a cooling blanket will definitely change the game for ya.

How do they work to cool down the body?
Understanding the ~science~ of a cooling blanket isn't as complicated as it sounds! It all just comes down to the type of material it's made out of. "Many cooling blankets are made from fabric that is breathable, such as bamboo, and allows heat to dissipate. Linen is another favorite fabric known for its breathability," Dr. Khosla tells us.
Avoid anything created with synthetic fibers as they tend to not allow much airflow and "end up trapping more heat during the night," Dr. Silverman suggested.
Dr. Seema Khosla, MD, FCCP FAASM, is a fellow of the American Academy of Sleep Medicine and medical director of the North Dakota Center for Sleep. She also served as the inaugural chair of the Clinical and Consumer Sleep Technology Committee and is the current chair of the AASM Public Awareness Advisory Committee.
Dr. Sarah Silverman, PsyD, is a Stanford-trained sleep psychologist and holistic sleep wellness consultant. She earned her doctoral degree in clinical health psychology from Nova Southeastern University in Fort Lauderdale, Florida, and completed her internship and residency at Henry Ford Hospital in Detroit, Michigan. She currently offers personalized sleep therapy virtually for patients in Florida and New York.
Megan Uy Assistant Shopping Editor Megan Uy is the assistant shopping editor at Cosmopolitan, where she searches for the best products in all things fashion, home, beauty, sex, gifts, and more, so you don't have to.
This content is created and maintained by a third party, and imported onto this page to help users provide their email addresses. You may be able to find more information about this and similar content at piano.io