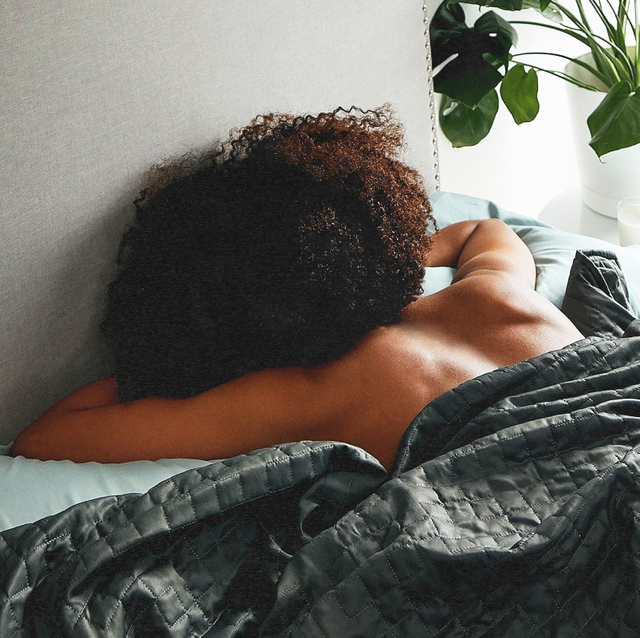 Gravity
Do you wake up every morning in a puddle of your own sweat? Congrats, boo—you're officially a member of the Sweaty Sleeper Society. For hot sleepers, finding light-and-breezy essentials for your bed is a must, from cooling sheets to breathable comforters to temp-regulating mattress toppers. And while a weighted blanket may seem like the last thing you want on your overheated bod, you'll be happy to know that cooling weighted blankets exist, and they're ah-maaaazing. The best cooling weighted blankets work to relieve your stress while keeping sweat at bay, and we've rounded up our fave options for you to shop, below.
Our top picks for cooling weighted blankets in 2022:
Keep on reading for deets and reviews of these top-rated weighted blankets for hot sleepers, as well as everything you should know about shopping for your new cooling weighted blanket. Enjoy!!
best overall weighted blanket
Classic Cooling Weighted Blanket
has a removable, washable cover
temperature regulating and sweat wicking
definitely on the pricey side
No, it's not cheap—but if you really value your zzz's, then it's well worth the investment, trust. Available in three colors, weights, and sizes, this bestseller from Gravity features technical polyester material that wicks moisture away from the skin and special glass beads designed to feel light and breathable. Plus, it looks so damn fancy on your bed.
THE REVIEWS: "Really just an awesome blanket!" says one reviewer. "I'm a hot sleeper, and so this weighted blanket from Gravity really was a must. Any other hot sleepers I believe will find this as an excellent choice for providing the benefits of a weighted blanket, without creating uncomfortable heat."
best budget weighted blanket
Cooling Weighed Blanket
so! cheap!
available in several colors, sizes, and weights
Yes, you can get a q-u-a-l-i-t-y weighted blanket without dropping major coin, and this bamboo viscose option from YnM is proof. It's lightweight, breathable, and filled with hypoallergenic glass beads. And as a bonus, it comes in TONS of different sizes, weights, and colorways—all for less than $100.
THE REVIEWS: "I love this blanket," one tester writes. "It feels so good to pull it over me and I really sleep well under it. I'm a very hot sleeper and I was concerned that I would overheat quickly in such a thick, heavy blanket. But the cooling blanket is remarkable—I'm never too hot or too cold."
best cotton weighted blanket
Weighted Blanket
machine washable and dryer safe
free from polyester and synthetic liners
not as actively cooling as other options
Cotton is known for being crisp, smooth, and cool, which is why this quilted cotton option from Baloo (which is free from polyester and synthetic liners) is such a great year-round option. It comes with a glass microbead fill that also works to keep ya cool, and it's available in three colors, as well as five weight and size options.
THE REVIEWS: "I love this blanket so much—truly an amazing purchase," one tester says. "…The weight is so comforting and it does not overheat me at all—I use it on its own and on top of my comforter and have never gotten too hot. 10/10 have been recommending to everyone who will listen."
best bamboo weighted blanket
Bamboo Modal Weighted Blanket
machine washable
totally sustainable
only comes in two weight options
This quilted beaut from Comma is made with 100 percent bamboo modal fiber, which means it's naturally hypoallergenic, antimicrobial, and oh-so silky cool. Plus, it's filled with BPA-free tempered glass beads, making it an earth-friendly choice. Choose between 15 or 20 pounds and two calming colors and get snuggling!
THE REVIEWS: One tester says, "I have been needing something like this for years! My night sweats are pretty unbearable. I wake up feeling soggy every morning with my regular comforter. But after trying this bamboo blanket, I'm never going back to my old covers!"
best weighted blanket on amazon
Cooling Bamboo Weighted Blanket
machine washable
super affordable
Made of lyocell bamboo (which is naturally antimicrobial and cool to the touch), this über-popular, bead-filled option from Luna is silky-soft and amazingly affordable—especially considering the quality. You'll also love that it's available in three weights, five sizes, and TONS of colorways.
THE REVIEWS: According to one review, "First, the material is soft—even without the cover! I remained cool all night long. Best of all, the weight is anchored/stitched in so no shifting weight. Oh, and it's half the price of a lot of weighted blankets with comparable quality? Get this blanket. You will not be disappointed!"
most breathable weighted blanket
Weighted Blanket
thinner than most weighted blankets
not machine washable
interior is polyester, which isn't as cooling
Casper's weighted blanket is unique in that—unlike similar blankets—it doesn't actually *look* like a weighted blanket. It's much thinner than most, thanks to a mix of batting fill and glass microbeads, and its cotton outer shell means it won't trap heat. This one comes in three weights and four color options, so you can find your perfect fit.
THE REVIEWS: "I didn't realize how much I needed a weighted blanket in my life," one tester writes. "This blanket makes you feel calm and secure—it's not too heavy or warm at all. I still have a sheet and knitted blanket underneath it and I live in Texas."
most versatile weighted blanket
Dual Therapy Weighted Blanket
has a removable, washable cover
may be too heavy for some
only available in one color
Looking for a weighted blanket that works just as well in the winter as it does in the summer? Enter: this cool dual-sided option from Brooklyn Bedding, which features fleece-like micromink fabric on one side and cool-to-the-touch Tencel on the other. This bb comes in two weights and is designed to provide deep touch pressure for ultra-soothing sleep.
THE REVIEWS: "Best weighted blanket ever!" one reviewer says. "Love the reversible sides with one that's cozy and one that is cooling. I overheat easily and this blanket is perfect! Also love how the cover is removable for easy washing!"
best splurge weighted blanket
Tree Napper
may be too heavy for some
definitely not cheap!
This knit blanket may not look like something that'll cool ya down, but believe us: It does its job very, very well. Bearaby's Tree Napper is made with eucalyptus fibers, which are silky, moisture-wicking, and cooling. Unlike other weighted blankets, this option gets its heft from the jumbo-sized yarn used rather than glass beads, so the weight is always perfectly distributed. Plus, it comes in three weight options and eight muted colorways.
THE REVIEWS: "Best weighted cooling blanket ever," says one reviewer. "Have had several other brands—this is by far the best and doesn't make me hot. Highly recommend."
How to choose the best cooling weighted blanket
So why are weighted blankets so damn amazing? These heavy-weight throws mimic the calming effects of Deep Touch Pressure (DTP), which is a technique used to treat sensory disorders, anxiety, and ADHD, among other things. Basically, they feel just like a comforting hug (aww!!), and if you don't want to get too sweaty under your new blankie, then here are a few things to consider:
Find the right weight
According to Kathrin Hamm, CEO and founder of eucalyptus (also called Tencel or lyocell) and bamboo viscose work to wick away sweat, which is why those materials are your best bets. Cotton is also known for being crisp and smooth, though cotton covers don't tend to be *actively* cooling like eucalyptus and viscose fibers.
Look for extra perks
While not required, the best weighted blankets tend to come in several different color options, sizes, and weights, so you can find something that suits your body and matches your ~aesthetic.~ Another helpful feature: the ability to machine wash your blanket, 'cause even if you're not sweating all over it, you'll still want to freshen it up now and then.
This content is created and maintained by a third party, and imported onto this page to help users provide their email addresses. You may be able to find more information about this and similar content at piano.io