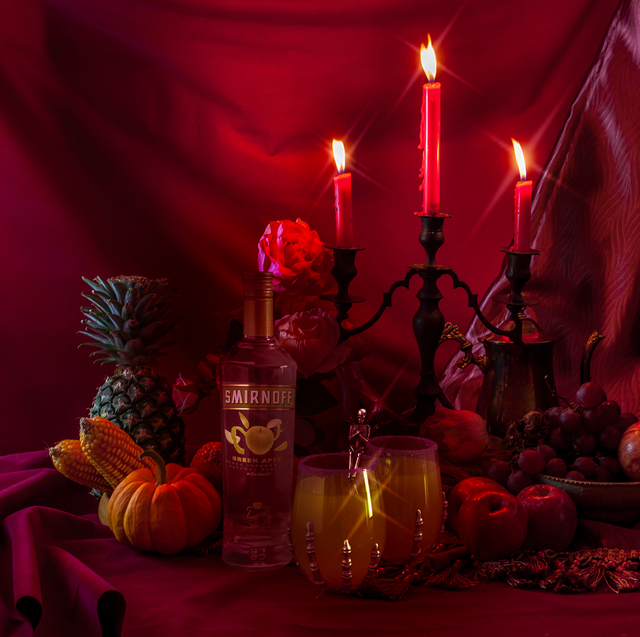 Getty Images
Sound the alarm because it's officially OCTOBER, bbs. For some, October might just be another month, but for everyone else, the best holiday ever is right around the corner. And that means it's time to start thinking about Halloween party ideas—because the pressure's on and you have guests to spook.
Before we get into it, here's one thing you should know about me: I'll go all out for a party. You don't serve 53 on-theme apps and desserts for your guests? Weird. There's not a plethora of seasonal cocktail napkins lying around the home? How are your guests supposed to appropriately wipe their hands? Do you even know how to do Halloween if there aren't syringes full of jello-shots on hand? The answer is no.
But if that's not your vibe, then don't you worry. We have allll the Halloween party ideas here for you to throw your spookiest soiree ever. We're talking creepy cocktails, detailed decor, themed karaoke (peep #46 because a "Calling All the Monsters" moment is a must), and fog machines. Yes, fog machines.
Whether you're fully ready to get your scare on with all of your friends or just looking to amp up a chill apartment hang (I feel you!), here are 50 ways to properly Halloween.
1
Make Fake Flower Boquets
Artificial Flowers
If you were thinking of having any fresh flowers at your halloween party, think again, because your florals need to be as dark and dead as the holiday itself. The fake stuff may be lacking the traditional aroma of a real flower, but put a fragrant fall candle next to it and you (and your guests) won't even know the difference.
2
Serve Your Drinks in Props
Blood Bags for Drinks
Forget regular cups! Who needs those things when you've got blood bags?! Fill these bad boys up with colorful cocktails and sip on them all night long.
3
Hang Witch Hats Everywhere
Hanging Witch Hat with Rope
Turn your home into Hogwarts (aka the Halloween party of everyone's dreams) by hanging witch hats from the ceiling. It's the perfect way to decorate your home while also living out your Hermione Granger fantasies.
4
Get Comfy With Decorative Pillows
Lighted Halloween Decorative Throw Pillow
You start to realize you're turning into an adult when you get excited about swapping out your seasonal pillows on your couch, but…how could you not? This one's themed and lights up. Your guests will appreciate the cozy factor, too.
5
Hand out Halloween Koozies
Halloween Koozies
Keep your cans cold and your hands warm with these halloween themed koozies. It helps to maintain the Halloween-y vibes and is a good way for guests to keep track of their drinks.
6
Create Your Own Spider Webs
Multipurpose Copy Printer Paper
For a fast and cute DIY way to amp up the Halloween spirit, take computer paper, follow these directions, and make some of these fun spider webs. This paper is also easier to clean up than the usual tangly cobweb mess, FWIW.
7
Make it a Murder Mystery Party
Murder Mystery Party Kit
If you wanna make your party an interactive one, then a murder mystery is the way to go. This kit will give you everything you need to pull it off, including bios for all the players, clues to solve the mystery, and tips on how you should dress in character.
8
Wrap Your Home in Caution Tape
Halloween Caution Tape
Festive caution tape isn't usually a go-to for most parties, but when it comes to Halloween, it's the perfect addition for walls, doors, or other surfaces. It's also perf for blocking off those rooms you don't want guests to go into, but like, in a fun and on-theme way.
9
Blow Up Halloween Balloons
Halloween Balloons
Is there really anything better than a themed balloon? Set these helium-filled hunnies up around your house, complete with floating bats, for that added spooky-yet-cute effect.
10
Have a Spider at the Door
Giant Fake Spider
If you're not willing to have a 6-foot spider as a stand-in bouncer, then you should probably just cancel your lame shindig. But if you are willing to go all out for the theme, this is the perfect inanimate object to greet your guests upon arrival.
11
Set Up Some Skeletons
Life-Size Skeleton
Another inanimate object that will def take your party to the next level! Place it on the couch so guests can sit with the skeleton, or even in the kitchen where it can be in on the food prep. Wherever your skeleton lives, it'll make for an A+ photo op.
12
Put Out a Bowl of Festive Wine Charms
Halloween Wine Charms
Nothing says scary like losing your glass of wine at a party, am I right? Avoid that nightmare by offering up these lil wine charms so that everyone can keep track of their drink.
13
Make a Halloween Charcuterie Board
Pumpkin Cookie Cutter
The first step to making your halloween charcuterie board starts and ends with this pumpkin cookie cutter. Sure, you can put a skeleton hand on there for that extra scare factor, but if my brie isn't cut into the shape of a pumpkin, then don't even bother serving it to me.
14
Whip Up Some Colorful Bark
Candy Eyeballs
Chocolate bark is maybe the easiest and most delicious dessert you can have at your party, and it's even easier to make it Halloween-y with these fun candy eyes. Follow these steps for a super simple bark recipe.
15
Fire Up The Dark Vibes
Black Candles
If you're going for minimal decorations but still wanna keep things moody, put out a bunch of these tall, black candles with dark candlesticks. It's the surest way to reach the Addams Family aesthetic in an instant.
16
Play Some Yard Games
Trick or Treat Cornhole Set
If you're lucky enough to have outdoor space, first of all, can I be you? But more importantly, utilize that space by taking the party outside and getting a corn hole tournament going. Apologies in advance for the competition that will ensue.
17
Hang up Ghostly Neon Lights
Ghost Emoji
Every good party needs some spirited (yes, pun intended) mood lighting. Display this adorbs ghost friend and I guarantee everyone is gonna want a picture with it.
18
Serve up Brain-y Apps
Lobster Deviled Eggs
You can't deny the crowd their deviled eggs! But why not take it one step further and instead of just, uh, the eggs, throw a chopped lobster into the mix and say it's a brain? Spoooooky.
You can find the recipe here.
19
Hold a Costume Contest
Satin Neckerchief
A costume competition is a mainstay, but I promise there's a way to make it not lame. Buy a bunch of cheap accessories and clothing items and (once the booze has been sufficiently passed around) have your guests come up with the best costume, Chopped style. Here's a scarf to start out…
20
Get the Invites Right
Do You Boo Greeting Card
Why not change things up and make them offish with snail mail invites? These greeting cards are perfectly minimal and call out your theme in the cutest way. If you don't buy them, I will!
21
Set the Scary Scene
Fake Cobwebs with Spiders
Not sure how to make the party space as creepy as possible? Easy. Hang this wildly realistic cobweb—complete with spiders, of course—over your furniture and across the ceiling for a five-second game changer.
22
Stir-Up a Whiskey Witch's Brew
Small Batch Whiskey
Pour 1.5 oz of your whiskey into a highball glass and finish it off with juice from a quarter of a lime, some Mountain Dew, and a little drizzle of grenadine. Et voilà! You've got yourself a spooky sip.
Recipe from The Intoxicologist
23
Channel Your Childhood
Hocus Pocus: The Game
Keeping party guests entertained can feel daunting. Luckily your guests will appreciate the nostalgia Disney's Hocus Pocus board game. Spooky points? Covered. On-theme? Check. Add. To. Cart.
24
Serve a Candy-couterie Board
Halloween Candy Box
All parties need charcuterie boards. But this is a *special* party. Instead of (or in addition to) a meat and cheese charcuterie board, go with a delicious Halloween candy display. And since not everything has to be DIY, purchase one of these boards that will come to your door ready to serve.
25
Get Intimate with your Guests
Actually Curious Card Game
If you keep the Actually Curious card game on your coffee table, your guests will thank you. It's such a fun, easy icebreaker moment for anybody when no one knows what to talk about. The cards give you the opportunity to chat about everything from childhood to dream jobs to all-time favorite memories (or the best Halloween costume you've ever created).
26
Amp up Your Costume
Mysteek Color Pop Temporary Hair Color
Whether you're going for a Lil'Kim purple or a Daphne Blake auburn, colored hair wax will easily elevate your look for all three days of Halloweekend.
27
Give Your Guests a Warm Welcome
Halloween Doormat
Your guests won't know if they're walking into a creepy Halloween party or just one with really cute decorations, but, you know, keep 'em guessing.
28
Turn Up the Scare
Psycho Movie
Pick your favorite scary movie to put on in the background to really set the mood for your party, like Psycho, Halloween, and The Shining. There's really no better way to say "scary Halloween party" than with some casual gory footage on TV while you rage.
29
Get In Touch With the Spirit World
Classic Ouija Board
The Ouija Board is perfect for a smaller get-together where you're trying to keep the freaky factor at an all-time high. Gather around the board and wait for people to start getting weirded out as their hands unwillingly move to spell out answers to the group's questions. Just remember: always say "goodbye."
30
Leave a Scary Message
Always On Cream to Matte Lipstick
Lipstick on the bathroom mirror is a classic Halloween scare tactic that will have your guests wishing they wouldn't have broken the seal. Bonus points for creepily personalized messages that'll really freak out each person.
31
Make a Slimy Cocktail
Green Apple Vodka
This Smirnoff cocktail kinda looks like Nickelodeon slime but, trust, it's delicious. Pour 3 oz. grape juice over ice in a glass rimmed with purple sanding sugar and mix in 5 oz. green apple vodka.
Recipe from Smirnoff.
32
Give Your Guests the Best Insta Backdrop Ever
Spider Web Backdrop
Sorry to break it to you, but there was no party if no pictures were taken. No worries, though, just tape this 5 x 7-foot spider web poster to your living room wall to provide the perfect backdrop for everyone's 'grams.
33
Add Some ~Festive~ Lighting
Pumpkin LED Lights
Yeah, yeah, we know that string lights were very 2017 but…the rules don't apply when you're throwing a party. Hang some of these cute lil jack-o'-lantern lights to brighten up your walkway or entryway.
34
Make Some Eye-Catching Cookies to Snack on
M&M'S Milk Chocolate Candy, 38-Ounce Party Size Bag
Five ingredients and five easy steps? Sounds like our kind of recipe. Follow the instructions below to cover some vanilla wafers in white chocolate and add some M&Ms and streaks of red food coloring for the bloodshot eye effect. In, like, under an hour, you'll have a whole row of snacks that are the perfect combo of salty and sweet.
35
Serve Your Candy in a Ghost's Mouth
Ceramic Ghost Candy Bowl
Even if you're just planning on serving fun-size Twix bars, you can elevate your host game by putting them in an aesthetically pleasing bowl. This one's perfectly themed without being too cheesy.
36
Mix Up Some Candy Corn Martinis
Whipped Vodka
Ditch your standard bowl of candy corn for this boozy (and therefore, way better) version of the treat. FYI: The following recipe makes two martinis, so be sure to double or triple it if you're planning on having more guests.
Start by filling a martini shaker 1/4 of the way up with ice. Pour in 4 oz. whipped cream vodka and 1 cup pineapple juice. Then put the lid on and shake. Pour the mixture through the strainer into each glass, filling them 3/4 of the way up. Add 1 tbsp of grenadine to each drink. Garnish 'em all with whipped cream and you're done!
37
Make a Toast to Your Best Witches
Halloween Banner
Give your bar cart or drink table a glitzy, festive backdrop in literally two seconds by putting up this Halloween banner.
38
Stream the Classics
Halloweentown
No doubt your party will be killer, but as it gets closer to the morning hours, your guests may want to take it down a notch. When the time comes, just sit everyone down in front of the TV or projector for some Halloween classics. Halloweentown is a great place to start.
39
Make Literally Any Drink Look Supernatural
Swizzle Sticks
Ok, these drink stirrers are the COOLEST. THING. EVER. They use dry ice to give literally any drink a smoky, mysterious haze. Just pour a spiked seltzer into a glass, dunk one of these stirrers in, and you're basically a seasoned witch mixologist.
40
Burn a Creepy Candle
PyroPet Kisa Cat Skeleton Candle
At first glance, this looks like a cute geometric kitten decoration. It's actually a candle that reveals a skeleton as it burns and casts a truly terrifying face on your wall. It's the perfect subtly scary Halloween decor.
41
Serve Syringe Jello Shots
Jello Shot Syringes
Do you know what's a realistic horror story? Trying to get your party guests to carefully dispose of 50 little plastic cups speckled with leftover gelatin. Putting your Jello shots in a syringe is more fun and also more environmentally friendly because they're reusable. So uh, how do you make one? Just mix Jello powder, water, and vodka like you normally would to make Jello shots. Load the mixture into your syringes, and let 'em cool. When in doubt, follow the recipe below.
42
Stir Up Some Competition
Fear Pong: Internet Famous
Based on Cut's popular YouTube series by the same name, Fear Pong is a twist on the classic game of beer pong. Put a dare card under each cup. When you get a ball in one of your opponent's cups they can either do one of the two dares on the card or drink the cup. The branding is right on for Halloween, and some of the dares are straight-up scary.
43
Host a Pumpkin Carving Contest
Halloween Pumpkin Carving Kit
Hosting a competitive crowd? Take a break from your Fear Pong to lead a pumpkin carving contest. Whoever executes the scariest (or funniest) jack-o'-lantern wins bragging rights and a bottle of alc (if you're feeling generous).
44
Award the Best Costumes
Costume Contest Wine Labels
Add another competitive edge to your party by passing out prizes for the scariest, funniest, and most original costumes. All you have to do is stick these labels on the wine bottles of your choice to create the perfect makeshift trophy.
45
Set an Ominous Atmosphere
Smoke Machine
Smoke machines are a *mood*. You could basically throw a party where everyone just sits around and plays Monopoly, and as long as you had a smoke machine running the whole time, it would still be peak Halloween.
46
Sing Some Scary-oke
Portable Karaoke Machine Bluetooth Speaker
Yes, I went there. Ignore the punny name, but absolutely use this occasion to break out your karaoke machine. Make a Spotify playlist with some October 31st classics like "Thriller," "Disturbia," and, "Calling All the Monsters," and take turns belting them out in front of your crew. This is after the Jello shot syringes, obv.
47
Bedazzle Some Candy Apples
Candy Apple Sticks
PROfreshionals
Dunking candy apples in a tub of glitter and then eating them is an absolute mess, but a delicious one—and a great addition to the glam Halloween aesthetic you're aiming for. You can find the edible glitter here, and follow this tutorial from Cosmo Bites for an easy how-to.
48
Bake Some Haunted Cupcakes
Disposable Pastry Bags
Wanna impress your friends despite minimal baking skills? You can whip up these ghost cupcakes in less than 30 minutes without causing any major disasters. Basically all you have to do is bake chocolate cupcakes (the boxed version totally works), swirl on some marshmallow frosting, and ice a little ghost face on top.
Get the full recipe at What Should I Make For…
49
Play Some Eerie Music
The Nightmare Before Christmas Soundtrack
One of the best ways to get your party off to a scary start is to play Halloween-inspired music. My pick? The Nightmare Before Christmas soundtrack. Throw some vinyl on your turntable; in the right setting, even a record scratch can be creepy. Plus, you can pull this one out again for your Christmas parties and no one would know a thing.
50
Cover Your Place in Spiders
Realistic Plastic Spiders
These plastic spiders look eerily realistic, so they're bound to make some guests jump. Scatter them in unexpected places like the bathroom counter, the arm of the couch, and the inside of your fridge, and you'll definitely pull off a scare or two.
This content is created and maintained by a third party, and imported onto this page to help users provide their email addresses. You may be able to find more information about this and similar content at piano.io