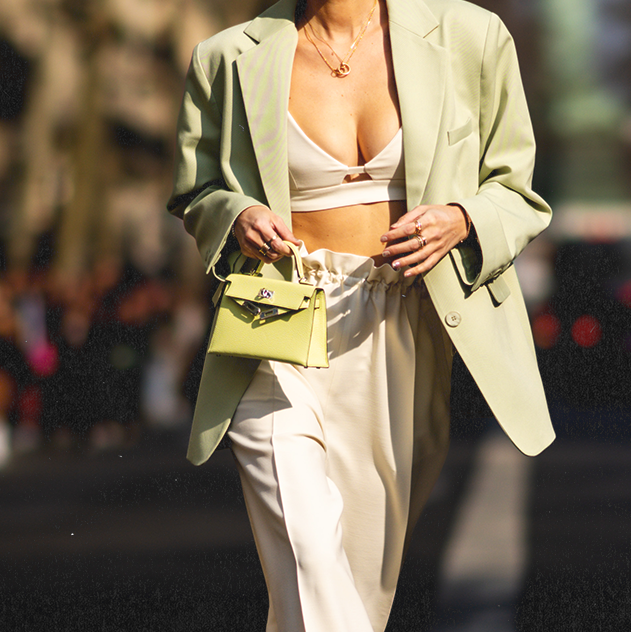 Getty
Hate them or love them, I guarantee you prob have some kind of bra in your lingerie drawer—although it may be collecting dust at this point. Whether you don't wear them as often these days or you always have one on, it can be useful to at least know the different types of bras. Sometimes a special occasion might call for a specific one, and this list can help you out! But on a more everyday basis, there can be subtle differences between, say, a demi versus a balconette or a seamless versus a smoothing, and learning more about the various types might make you realize your current bra fits incorrectly. It's a very common issue! (More bra fit tips and tricks this wayyy.)
You definitely aren't required to have *all* these in your undergarment arsenal (technically speaking, you're obviously not required to even own undergarments—that's your business!), but if you wanted a simple breakdown of all the different styles and what they're best for, you've come to the right place. Now you'll never have to guess which silhouette is right for you and your cute summer outfit—and you can shop for pretty ones along the way. Here, 24 types of comfy, sexy, and supportive bras you can wear with any ensemble.

And if you're looking for more ~bra~ content, click the links here for the best strapless bras, the best push-up bras, the best lingerie brands, and to see exactly which Amazon bra has glowing reviews.
T-Shirt Bra
Pure Luxe Underwire T-Shirt Bra
These bras are typically seamless with round, molded cups, so—true to their name—they (usually) don't show under a tight-fitting T-shirt. This top-rated Natori style offers great support with slimmer lace straps and less coverage at the top for a more revealing style. The underwire cup has a naturally rounded, smooth shape that vanishes under your clothing.
Balconette Bra
24/7® Lace Balconette Bra
Balconettes and demi bras are VERY similar, but they're not the same. This style is a little more revealing than a full-coverage style because the cups are cut smaller and show more of the top half of the breast. This gorge lacy one from ThirdLove is a fan fave and available in cup sizes A to I.
Demi Bra
Real Happy Demi Lightly Lined Bra
Now, this silhouette is cut even lower than a balconette and works better under low-cut scoop-neck tops. This particular style has a scalloped trim and is lightly lined for gentle shaping. You can also wear it as a racerback for extra versatility.
Bralette
Cotton Essentials Bralette
No underwire? No problem. Bralettes are typically free of wires and molded cups and are often decorative and made of lace or other delicate fabrics. This pastel stretch bralette with its lace trim is so stunning, it should be seen!
Triangle Bra
Triangle Bralette
Arguably one of the most popular shapes when it comes to bras is the triangle, and it means exactly what the name says: It has triangular-shaped cups that attach to the band, like this pretty pink style from Parade.
You can probs guess it from the name, but essentially, this style is like a super-cropped tank top with a scoop neckline and wider straps. It's a go-to for lounging and it also looks great with high-waisted bottoms if you want a more low-key, sporty look. This one is made with Supima cotton for a supersoft feel and also comes in two other shades.
Strapless Bra
Naked Glamour Strapless Push-Up Bra
Strapless bras are a must for any shoulder-baring outfit if you don't want visible straps. Many have silicone lining that sticks to skin and prevents slipping. This popular Calvin Klein one has a sweetheart neckline and boning so it keeps its shape.

Underwire Bra
Floral Lace & Mesh Bra Whisper Pink
Wire cups provide support and keep your girls in place. But just because they're functional doesn't mean they don't look cute! Case in point? This delicate floral mesh bra.
Seamless Bra
True Body Boost V Neck Bra
If you can't stand bumps from your bra showing from under your outfit, then you definitely want to get this style. The material is usually thin and has ample stretch so it lies flat on skin and smoothes any lines. This popular True & Co. one is available in sizes XS to XL.
Smoothing Bra
Headliner Shaping Midi Bralette
Bras can be shapewear, too! This Yitty design has medium compression to shape and smooth. It also has no-show seams, so it looks straight-up invisible under any shirt.
Racerback Bra
Pure Genius Racerback Bra
Hide your straps when you wear a racerback top with this bra, thanks to the ones that cross in the back. Tons of these are also convertible racerbacks, meaning you can wear the straps both ways since they hook and unhook. This style has a sexy lace back and an easy-to-use front closure.
Wacoal
Visual Effects Minimizer Bra
These are popular for those with larger breasts since they usually reduce the size of your bustline up to an inch. You can wear 'em to make your tops fit better and not feel as tight against your chest if you're uncomfortable.
Full-Coverage Bra
Rive Gauche Full-Coverage Unlined Bra
The full cups cover the entire breast, so if you're into cleavage, this probably isn't the style for you. This one does the job if you like extra coverage and support, and the lace and bow details are super cute.
Plunge Bra
Embrace Lace Bralette Bra
Do you wear lots of V-necks and low-cut shirts? Get yourself this silhouette. Depending on the bra, some plunges go deeper than others—even extending past the band for a lil extra dip.
Sports Bra
Doing Things Bra
They come in a range of styles, but for the most part, these guys are all about providing support whether your workout is low- or high-impact. They will wick away any sweat and are made with breathable material so you don't overheat.
Halter Bra
Simone Halter Bralette
For more of a '90s-inspired moment, a bra that goes around your neck like a halter top is actually super chic; plus, it also literally takes the weight off your shoulders thanks to the strap placement.
Nursing Bra
Body Silk Seamless Nursing Bra
It has clips on the straps to unfasten each cup and make the whole nursing process so much more seamless. This pink one also has removable, molded foam cups, comes in two other shades, and it's machine washable.
Padded Bra
Seamless Lightly Padded Underwire Bra
The padding on these can range from light to heavy depending on how much of a lift you're looking for. This style in particular adds a whole cup size; however, there are other styles out there that are more subtle or have removable padding.
Longline Bra
Longline Bralette
Longline silhouettes have fabric that extends beyond the underwire toward the ribcage. This white lacy one is so pretty, right? Wear these under crop tops or by themselves to really show them off.
Convertible Bra
Full-Figure Underwire Contour Multiway Bra
These bras can do it ALL. You can typically wear them strapless or as a racerback, a halter-neck, a one-shoulder, and more. This four-in-one multiway bra is available up to a size 42F, with silicone along the top and band to keep the girls in place.
Bandeau Bra
Bandeau Bralette Tube Top
Bandeaus have a neckline that goes straight across, so you can wear them for cleavage coverage or as a bra top. Many feature lace, but you can also find simpler ones, like this solid microfiber one, if that's what you're into.
Unlined Bra
Demi Cup Plunge Underwired Bra
There's less fabric on the cups with this silhouette, so it's usually more sheer and lightweight. A delicate lace underwire bra with sweet bows is perfect for your more casual days, and it looks so cute peeking out from a white tank.
Push-Up Bra
Tulip Strappy Lace Push-Up Bra
For extra lift and to make your cup size appear larger, a push-up is the way to go. They're most often underwire bras that have foam or gel padding for extra emphasis. One that's lacy with extra straps definitely makes a statement.
Adhesive Bra
Invisible Push up Silicone Bra
If you have a closet filled with backless dresses and no bra to wear with them, this self-adhesive strapless bra is your answer. The style sticks to your skin for a barely-there feel and works for most tricky dresses and tops. Some are washable and reusable, usually up to a certain amount of wears.
Cosmo's team of digital fashion experts—which includes Fashion Features Director Rachel Torgerson and Fashion Editor Tarah-Lynn Saint-Elien, and Contributing Fashion Features Director Alexandra Ilyashov—have decades of combined experience in the industry. They spot relevant trends on the runway before they even hit your TikTok FYP or Insta Explore Page and conduct research across retailers of all kinds—testing many brands IRL—to bring you the best clothing and accessory picks for every season. Basically, we've curated the internet to bring you the chicest options like it's our job (because it is, heh). Each of our shopping articles adheres to the 15 Percent Pledge and includes products for all sizes.
For these bras, we focused on making sure the selects had a mix of styles, sizes, colors, and price points. We also went into depth about how each one differs from other styles and gave some tips about how to wear and/or style them. Hope you (and your boobs!) found something you love.
This content is created and maintained by a third party, and imported onto this page to help users provide their email addresses. You may be able to find more information about this and similar content at piano.io