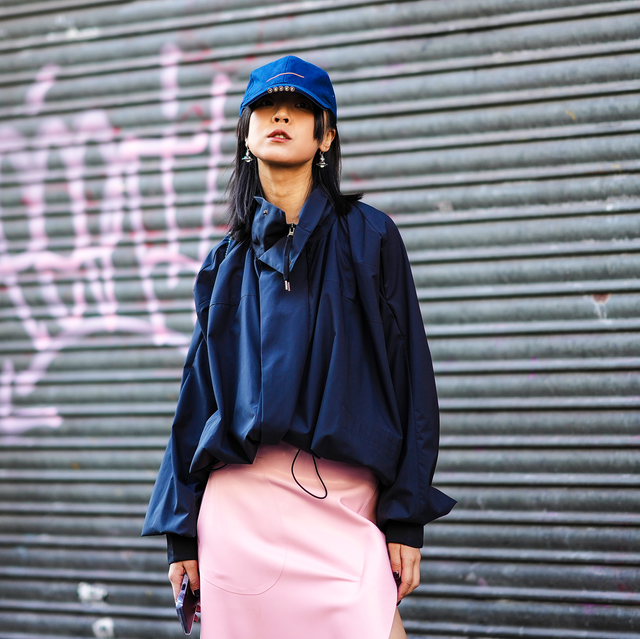 Getty Images
The dad hat is back like it never left. And honestly, it's probably because it never did. They're so much more than a quick fix for bad hair days—baseball caps for women are a full-fledged cool girl essential these days. And a versatile one at that: depending on the design, a baseball cap can be everything from an unexpected statement piece to the perfect problem-solver when you feel like going kinda incognito. Practicality-wise, they're a must for shielding yourself from the sun's rays, too! Add some sunnies and you'll instantly feel like a street style star.
We've seen celebs like Rihanna, Dua Lipa, Hailey Bieber, and Meghan Markle donning baseball caps pretty much everywhere, and you'll find 'em on the runways, too, including Coach and Celine. It's an effortless accessory to top off so many outfits. The best part? Baseball caps can be worn year-round! Just switch it up materials-wise between seasons: Think cotton, polyester, and sweat-wicking material for the warmer months (and for workouts), and wool, velvet, and corduroy for cooler months.
Ahead, our fave picks you'll want to toss on ASAP, whether you're running errands, going for a run, or anything in between.

Our top picks for the best baseball caps for women of 2022:
---
Once you've got baseball caps on your radar and in your closet, we've got all your headwear needs covered. Check out the bucket hats that'll complete every summer outfit, the best beach hats on Amazon, and, if you like planning ahead, peep the cutest beanies to wear this winter. Because who doesn't want to look fab all year round from head to toe? Without further ado, a dozen standout baseball caps for women to top off any look.

if you need a hat that also gives your hair some TLC
Pink Satin-Lined Baseball Hat
gentle with all hairstyles
protects hair from drying out, frizzing up, and tangling
v cute
ponytail exit not adjustable
Grace Eleyae is a Black-owned brand known for satin-lined caps, beanies, and bonnets—an absolute essential particularly for natural hair queens. (My hair type is 4C, and I have and love the beanie!) Think of these as hats with built-in haircare, basically. A genius combo!

Rave Review: "I got the Grace Eleyae hat in the color baby pink and it's an absolute dream," writes one reviewer. "The shipping was precise and it tells you the exact day and gives you a little countdown of how many days away it is from arrival as a sweet bonus, I really appreciated that coming from a person who is always anxious about packages arriving. I work in the kitchen of a restaurant that requires to wear a cap on your head to prevent hair falling in the food, and since I have to wear one almost every day I thought about the best way to protect my hair from damage. This silk lined cap is a perfect solution. It keeps you looking stylish while working, and protects your hair."

if you wanna keep it classic
Athleta Kinetic Baseball Cap 3.0
reviewers say it's great for "big heads"
doesn't push your ears down!
v secure
may be too big for smaller heads
hard to clean
Offered in various colors, you'll find yourself reaching for this classic Athleta cap at any given opportunity.
Rave Review: "I bought two of these already…light green and the black," shares one reviewer. "I golf and they are airy and light.. the white one is going to be mine soon too. Love these hats!"
if you're into nostalgic fashion
DungeonForward SKLT Squidward – SpongeBob X Nickelodeon Collab
vegan leather brim
double strap
cool design details
Who says you have to grow up? Channel your inner kid with this Bikini Bottom-inspired baseball cap constructed from a colorful mix of materials. It'll be a great conversation starter, for sure. I mean, who doesn't get nostalgic over Spongebob?!

if you're into wide-brim caps
Gap 100% Organic Cotton Washed Baseball Cap
Smooth, sturdy twill weave
Soft, subtle washed out finish
there are matching socks!
This hot pink hue is always a yes in our book. Check out this Gap style, which you can buy multiples of (there are so many colors!!!) so you've always got one handy for hikes, bike rides, and other outdoorsy adventures.
Rave Review: "A perfect fit," writes one reviewer. "I have a small head so it's hard to find a cap that doesn't look silly on me, this one is just right and very soft.
if you're nuts about knits
L*SPACE Capri Baseball Hat
glamorous!
only comes in one size
A knitted cap is so chic. Wear this gleaming one with chunky gold accessories to further elevate your look.
if you live for logos
Alexander McQueen Embroidered Baseball Cap
major street style vibes
perf for a weekend outing
If you're all about a designer logo moment, this embroidered pick may be right up your alley. The pale pink is soft enough to match pretty much any outfit.
if you've got a sweet tooth
DungeonForward Play More Watermelon Airheads
many flavors and styles
bold design
Heads up: this Airheads-themed cap will prob have you craving the chewy, fruity candy immediately. You'll be bringing all sorts of fun vibes with this playful, funky style.

if you're all about going green
Madewell MWL (Re)sourced Baseball Cap
matching sweatsuit available
recycled polyester
We love a stylish and sustainably made piece, like this muted sage cap. It'd look so good as part of a monochromatic sweatsuit moment.
Rave Review: "This is a pretty color, comfortable to wear, good material and easy to wash," writes one reviewer. "It's a nice hat!"
if you wanna sweat it out in style
rag & bone Addison Baseball Cap
casual and cute
available in three other colors
If you're into serene pastels, then this retro-tinged baseball cap has your name all over it. Such a dreamy blue!

if you're a jeans queen
Calvin Klein Denim Monogram Logo Cap
comes in light or dark denim washes
engraved gunmetal hardware
nice topstitching
only comes in denim material
Versatility and style, coming right up with this embroidered denim Calvin Klein bb. Pair with some leather pants, a ribbed top, and oversized jacket for instant cool girl factor.
Rave Review: "This is one of my favorite hats," writes one reviewer. "Very stylish and comfortable. Perfect accessory for a sunny day. Has an easy adjustable strap for thicker hair. Would definitely buy more."
if you're into nudes
Ruslan Baginskiy Baseball Cap
well-made
so lightweight
fits above a ponytail
A nude color baseball cap is a must in your wardrobe. It goes with every and anything! We'd style this with a light jacket, crop top, cargo pants, and platform shoes.
Rave Review: "I wear this hat everyday lol," writes a reviewer. "The color is amazing; it's exactly like the pic. And for the price, it's well worth it. It's made very well and it goes with everything! So happy I got it; it's nicer looking than most baseball caps."
if you wanna look sporty and stylish
Backless Stretch Fit Hat
really comfy
works with so many hairstyles
This Adidas cap is def the one you reach for when you're heading out to the gym or running errands. This one is backless and has lots of stretch so if you have trouble finding hats that fit your head, this is the one to stock up on!
Rave Review: "This is a great hat," writes one reviewer. I wish there were more color options!"
Where did baseball caps come from?
How about some brief fashion history, shall we? Baseball caps were originally worn by…well, you guessed it: baseball players. The thing is, the style started off as a sun visor to protect the players out on the field. Marketers and politicians quickly seized the moment to send a message by adding slogans to them and today, everyone is making a statement with 'em. Baseball caps are def never going out of style; they're just evolving.
Here's what you should look for in a baseball cap for women:
No baseball cap is the same, so here are some tips that'll help you find the best fit and feel possible, depending on your hair, head size and shape, and more…
Figure out the right size. First things first, yes, size matters when it comes to hats. Many baseball caps are unisex, with an adjustable back strap to fit different head sizes, though baseball caps for women do run smaller than men's. When in doubt, it's worth measuring the circumference of your noggin, especially since you'll find measurements guides vary from brand to brand. The cap shouldn't be too tight (headaches are not cool) nor should it be too loose.
Discover the material you want. Cotton is the best if you're looking for something lightweight and comfy. But if you wanna experiment and have fun, try out other materials like leather, nylon, silk, satin, or even tweed. There are so many to choose from!
Determine what kind of back closure you're into. Do you prefer a hat with velcro, buckles, or snaps to keep it securely on your head? Figure out what works best with your hair type, go-to hairstyle, and, of course, your personal style.
Should a baseball cap cover your ears?
Heads up (get it?): a baseball cap shouldn't be so big it covers your ears. Ideally, it will it rest right above 'em.

How we choose the best baseball caps for women:
Cosmo's team of digital fashion experts—which includes Fashion Features Director Rachel Torgerson, Fashion Editor Tarah-Lynn Saint-Elien, and Contributing Fashion Features Director Alexandra Ilyashov—have decades of combined experience in the industry. They spot relevant trends on the runway before they even hit your TikTok FYP or Insta Explore Page and conduct research across retailers of all kinds—testing many brands IRL—to bring you the best clothing and accessory picks for every season. Basically, we've curated the internet to bring you the chicest options like it's our job (because it is, heh).
Each of our shopping articles adheres to the 15 Percent Pledge and includes products for all sizes. These baseball caps for women were chosen based off of style, popularity, price point and so many reviews to put together this shoppable list of the very best for you!
Tarah-Lynn Saint-Elien Fashion Editor Tarah-Lynn Saint-Elien is the fashion editor at Cosmopolitan, writing weighty and witty stories that run the gamut of gushing over Zendaya to convincing you of everything you need in your closet!
This content is created and maintained by a third party, and imported onto this page to help users provide their email addresses. You may be able to find more information about this and similar content at piano.io